"Learn

how to overcome

any kind of
objection during the sales process"
CLICK HERE FOR 6 X 25 MINUTE FREE SALES RECORDINGS & DOWNLOADS
Overview
Let's face it, if you work in a sales environment you are going to be faced with objections on a daily basis like "I haven't got time" "It's too expensive" "It's not right for me" "My wife wouldn't like one" and so on!
So as a successful salesperson you've got a stack of responses to these, right?
More likely – WRONG!
And if you have got the responses to them, how effective are they?
This course helps you find the best answer to ANY objection that any prospect or customer comes out with!
Soon you will be on automatic pilot so that whatever the prospect comes out with you are fully armed with an objection handling tool box full of techniques and strategies to help you close the sale!
Who Will Benefit From The Course?
What Will You Gain From the Course?
Learn how to handle difficult objections and skepticism over the phone and face to face
Learn how to build up your objection list and formulate a response to each of them
Learn how to get to that "YES"
Learn different objection handling sales models
Learn SPIN techniques
Understand the importance of voice tone and words in telephone sales
understand the importance of body language in objection handling
Learn consultative techniques instead of pitching products
Learn how to build up effortless rapport
Learn how to build up trust
Would You Like To Make An Enquiry Or Ask A Question?
Call us for FREE on 0333 320 2883
Email us at enquiries@mtdtraining.com
Complete our online form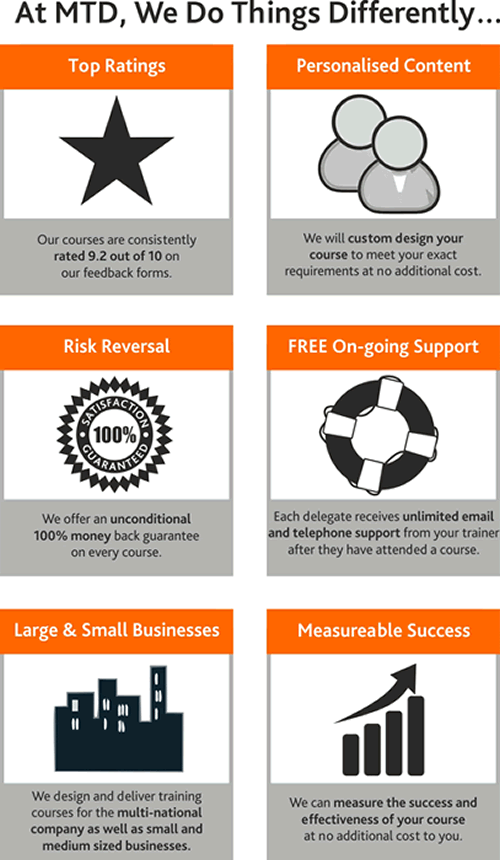 Get In Touch!
If you have got some training requirements in mind please call us on 0333 320 2883 or complete the online form below and tell us about what they are and we'll get back to you with some options and costs.