"Learn how to feel comfortable selling over
the telephone so that you

become a
sales generating machine!"
CLICK HERE FOR 6 X 30 MINUTE FREE SALES RECORDINGS & DOWNLOADS
Overview
Selling on the telephone is a lot harder than face to face selling so it pays to make sure that you have the very latest techniques and strategies to become a "robo-salesperson" when making outgoing or receiving incoming calls!
This course will teach you specific knowledge and skills for telephone selling.
The course covers: how to sell on incoming and outgoing calls, how to cross and up sell when taking orders, how to make cold calls, and general telephone etiquette
Who Will Benefit From The Course?
Call centre staff responsible for making sales
Telesales operators
Salespeople who have to use the telephone a lot to call clients
What Will You Gain From the Course?
Handle difficult objections and skepticism over the phone
Learn how to get to that "YES"
Learn telephone sales models
Learn how to plan out your calls before you make them
Understand the difference techniques required for telephone versus face-to-face selling
Understand the importance of voice tone and words in telephone sales
Learn consultative techniques instead of pitching products
Learn how to build up effortless rapport
Learn how to build up trust
Differentiate your product and company from the rest
Get away from telling and learn how to concentrate on selling
Determine opportunity areas for adding value to a customer's business
Would You Like To Make An Enquiry Or Ask A Question?
Call us for FREE on 0333 320 2883
Email us at enquiries@mtdtraining.com
Complete our online form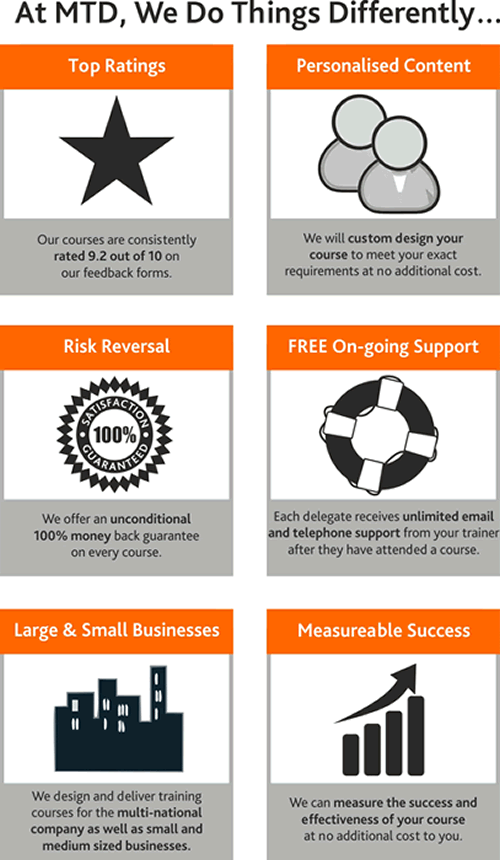 Get In Touch!
If you have got some training requirements in mind please call us on 0333 320 2883 or complete the online form below and tell us about what they are and we'll get back to you with some options and costs.