"Learn how to

close more sales

in
less time without the stress and strain!"
CLICK HERE FOR 6 X 25 MINUTE FREE SALES RECORDINGS & DOWNLOADS
Overview
Bottom line?
– This course is designed to provide you with the techniques and strategies to make more sales so that you benefit and your company makes more profits!
Nothing more needs to be said does it!
Who Will Benefit From The Course?
Those of you that are new to a sales role
Sales people who need a refresher and need to get "back to basics" and refocus
What Will You Gain From the Course?
Learn how to use the consultative sales approach
How to build up credibility and "likeability" from your prospect
Learn how to elicit your prospects needs and desires
Enhance your questioning and listening skills
Learn how to use body language and non-verbal communication to your advantage
Learn how to understand the motivations of your prospects
Learn techniques of how to get to that "YES"
Learn how to overcome objections and excuses
How to get your point across without the waffle
Learn how to build effortless rapport with your prospects
Learn how to make that positive first impression
Building trust with your prospects and how to do this
Learn effective after-sales techniques
Would You Like To Make An Enquiry Or Ask A Question?
Call us for FREE on 0333 320 2883
Email us at enquiries@mtdtraining.com
Complete our online form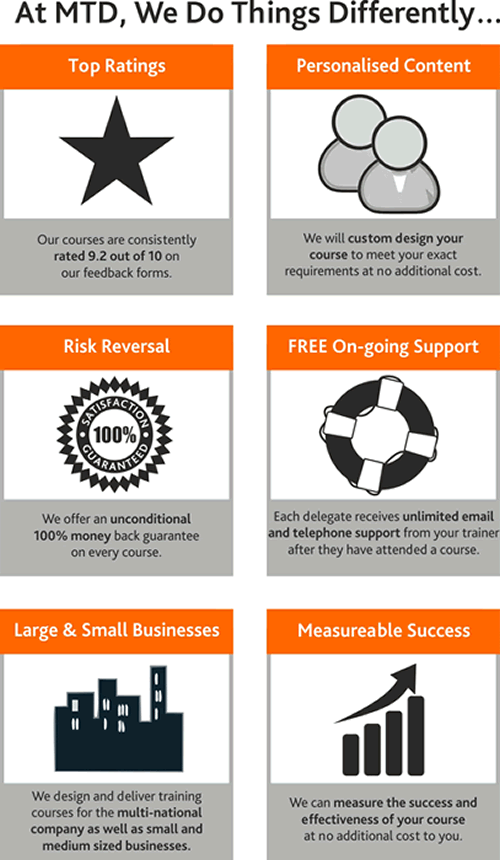 Get In Touch!
If you have got some training requirements in mind please call us on 0333 320 2883 or complete the online form below and tell us about what they are and we'll get back to you with some options and costs.