Select from Workshops, Virtual, Coaching or Self-Study
If you have people who are responsible
for resolving problems, preventing re-occurrence and supporting the improvement of business performance
then this programme can really help them to excel at what they do.
Improvement Technicians are responsible for the delivery and coaching of improvement activity within your organisation, through a keen understanding of compliance, project and change management and process mapping and analysis.
Our programmes are not chalk and talk! We can customise the style, the format and the delivery of the programme to suit your organisation – it will be a complete bespoke solution so your learners and organisation achieve real, tangible benefits from it.
Some of our employers prefer face to face workshops, others prefer virtual sessions and some prefer the programme to be delivered as action learning sets. You can combine all three or add virtual coaching, self-study and online learning into the mix!
We'll work with you to determine what is best for you.
This programme is fully customisable.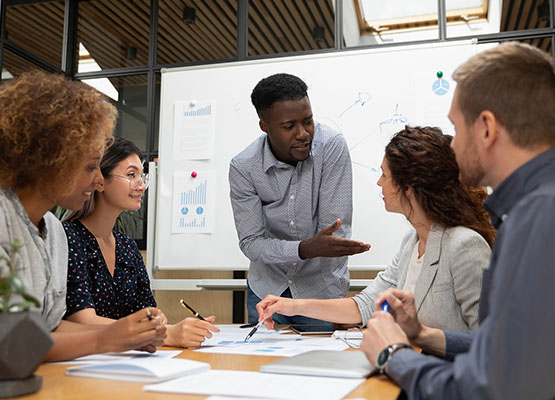 ---
What Will Your Employees Improve?
Knowledge & Skills
Compliance
Team building and team leadership
Self-development
Six Sigma and Lean principles and methods
Problem definition
Data acquisition
Process capability and performance
Experimentation
Prioritisation
Sustainability and control
Communication
Project management
Change management
Project selection and scoping
Voice of the customer
Process mapping and analysis
Lean tools
Statistical analysis and measurement
Root cause analysis
Benchmarkingt
Behaviours
Drive for results
Team working
Professionalism
Continuous development
Safe working
---
Programme
Delivery Options
We'll use a mix that works for your organisation
Face to Face Masterclasses
Virtual Masterclasses
Digital Learning
Virtual Coaching
Action Learning Sets
Self Study
---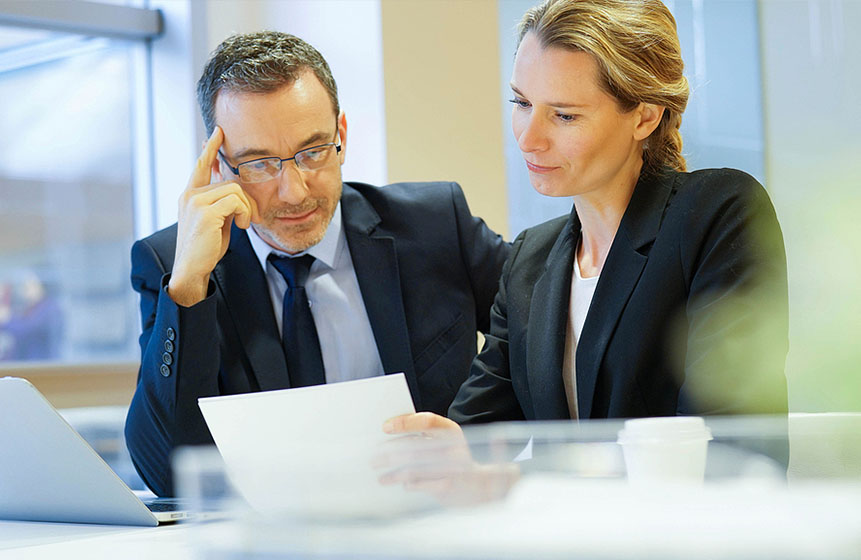 CUSTOMISED & UNIQUE
Developing Your Programme
Key to the success of your apprenticeship programme will be for our team to work in partnership with you to develop your programme so that it reflects your mission, values and behaviours, harnesses core working practices, terminology and that it is relevant to each and every learner and their role.
Working in partnership with our curriculum experts we will develop a programme that is unique to your organisation and your learners.
The programme will be designed around your exact requirements to ensure that you receive real, tangible outcomes that can be evidenced in the workplace – whether that's in a physical office or if your learners work from home.
Below is some further information about the Improvement Technician Level 3 programme.
---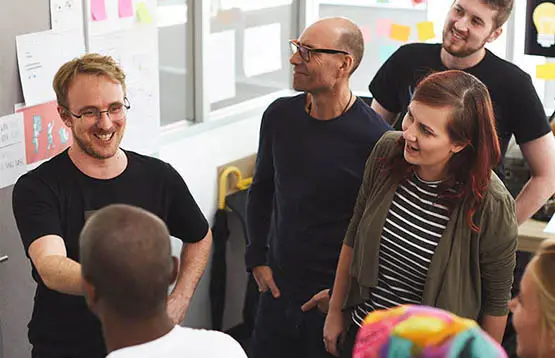 BLENDED APPROACH
Programme Structure
This programme has been designed in a way that will maximise the performance of each learner. Learning the theory of a topic is great but it's what the learner does to embed the learning and actually use it, that matters most.
All learning is reinforced with ongoing coaching, online resources and off-the-job activity to bring it all to life.
Each part of the programme supports the learner to apply their knowledge and skills via INTENT – IMPLEMENT – IMPACT.
What did they plan to change?
What did they change and how?
What impact did it make?
---
Onboarding & Induction
Initial workshop and event about the programme and how to get a high grade.
Practical Learning Events
Practical and engaging. Can be classroom based or delivered virtually. Run by best in class trainers.
Digital Learning
To take in-between learning events and to help embed the learning. Self-study and in the flow of work resources.
Ongoing Reviews
Held between the learner, employer and skills coach to monitor progress and to make any adjustments.
End Point Assessment
End of programme assessment. Consists of activities like observations, evidence, tests and discussions.
Skills Individual Learning Plan
Creation of a pre-programme learning and development plan. Includes goal setting and actions.
Regular Coaching Sessions
One to one development with a designated skills coach. Covers skills and an assessment progress review.
Off-The-Job Training
20% of the learner's total working hours is used for "off-the-job" learning and development activities.
Support & Help
Our designated skills coaches will always be on hand to help your learners all throughout the programme.
Apprenticeship
Learners gain a pass, merit or distinction from their end point assessment based on their results.
---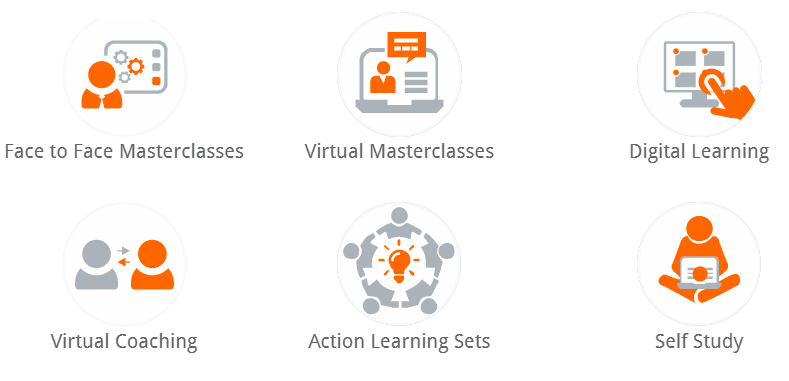 PRACTICAL & ENGAGING LEARNING
Tailored Blended Learning Programmes
Our programmes have been structured in a way so we can design and deliver them in a format to suit your exact requirements and ways of working.
Whether you have 1 learner or a group of 10, we can create a practical and engaging programme using a various mix of blended learning approaches.
Below are some core content outcomes for each of the main areas of the programme. We will work with you upfront to decide which delivery method and approach will be right for your learners.
Core Content
Outcomes
Select from workshops, virtual, coaching or self-study options
No minimum numbers for cohorts. The minimum is 1!
Learning Styles
Informal and formal learning
Learning styles models
Learning agility
Compliance
Legislative and customer compliance requirements including health and safety.
Work in accordance with organisational controls and statutory regulations
Project Management
Plan, manage and implement improvement activities.
Identify and support management of risks.
Identify and scope improvement projects and establish clear measurable objectives
Change Management
Roles of the manager and leader within change. Influencing, reinforcement and coaching principles
Engage through communications.
Effectively coach peers
Principles & Methods
Engaging with subject matter experts
Six Sigma principles
Lean principles
Process Mapping & Analysis
Apply process mapping tools to visualise processes
Analyse process performance
Process mapping, value and waste analysis.
Data Acquisition For Analysis
Data stratification, sampling theory, data types
Develop data collection plan and validated measurement processes
Develop data collection plan and validated measurement processes to understand performance
Process Capability & Performance
Capability analysis – continuous data
Analyse product/process performance using good quality data
Problem Definition
Develop a problem/opportunity statement supported by validated data
Exploratory data analysis
Problem and goal statements
Basic Statistics & Measures
Control charts – discrete data
Establish patterns and trends in data over time using tally, pie, run/trend and pareto charts
Process Capability & Performance
Capability analysis – continuous data
Analyse product/process performance using good quality data
Root Cause Analysis
Use cause and effect diagrams
Technique of 5 whys and graphical analysis
Identification & Prioritisation
Identify and prioritise improvement solutions
Brainstorming, selection criteria
Sustainability & Control
Create control and reaction plans with detection measures
Identify opportunities to embed changes to leverage benefit to the business.
---
Programme Details
Length Of
Programme
We'll create a development schedule that aligns with your business requirements and availability of your people. Typically this programme takes 14 months to complete.
Entry
Requirements
Learners will be required to have or achieve level 1 English and Maths and to have taken level 2 English and Maths tests prior to completion of their Apprenticeship.
Need Maths &
English Support?
Learners will be supported to develop and improve their English and maths skills prior to sitting their Functional Skills exams by our specialist functional skills trainers.
Developing Knowledge,
Skills & Behaviours
Achieved through a programme of masterclass workshops, tasks, activities and research. The masterclasses can be delivered face to face or online delivered by our specialist trainers.
Personalised Skills
Coaching & Support
Learners will be required to demonstrate their skills, knowledge and behaviours in the work setting. This activity will be supported by one of our experienced skills coaches.
End Point
Assessment
Throughout their apprenticeship journey, learners will be given support to develop their understanding and approach to completing their end point assessment.
---
Get In Touch!
If you have got some training requirements in mind please call us on 0333 320 2883 or complete the online form below and tell us about what they are and we'll get back to you with some options and costs.