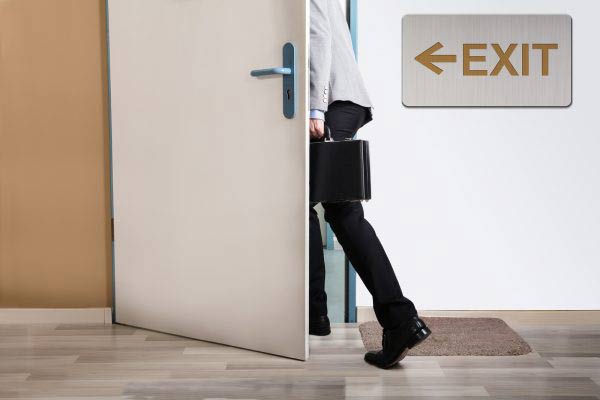 Due to the fact that modern employees are not as loyal to their jobs as in the years before, managers have a hard time keeping their star players.
A high employee turnover can devastate a company, forcing remaining employees to pick up the slack, and causing a loss in sales while a replacement is sought.
Once a member of your team has turned in their notice, it may be too late to tempt them to stay, even with a higher salary or a promotion.
This is why it is advantageous to learn the following tell tale signs that someone is about to walk, and make actions then to prevent that from happening.
One source conducted a survey where they asked 100 managers and 100 employees about possible cues they observed or exhibited 12 months before leaving, and as a result, have come up with over 900 behaviours to watch out for that can be predictors of quitting.
The top 10 ones include:
1) Decreased Productivity
While employees can have off days if they are stressed, tired or sick, when a worker has significantly decreased in their productivity, it may be due to the fact that they are mentally moving on from their position.
2) Less Teamwork
Have you noticed an individual who is typically very invested in the success of your team slowly start to become a less valued member?
That may be a sign that they are searching for another job.
3) Only Doing The Bare Minimum
If you know that you don't have a future with your company, but have not announced your leave date as of yet, you may do the bare minimum not to raise suspicions.
4) Stopped Trying To Please The Leader
Have you noticed that an employee who always asked you about your day or showed off their achievements has tapered off in doing so?
That may be a red flag.
5) Not Committing To Longer Timelines
If your worker seems unwilling to commit to a project or task that will be completed in a few months, consider what may be the cause.
Perhaps, they know they won't be around in that timeframe.
6) Negative Attitude
While some people are natural pessimists, when an otherwise happy employee has started displaying a negative attitude, that could mean they are unhappy with something at work and are looking to leave.
7) Less Effort And Motivation
Do you feel the need to keep motivating an individual that typically hasn't needed it to put in more effort to doing their work fast and correctly?
Why may that be?
8) Less Focus
Do you catch the individual checking non-work related email, daydreaming or on their phone a lot?
That could be because they can't keep focus on their job because they know they are moving on soon.
9) Voice Dissatisfaction
Not everyone is happy at work all the time, but if a candidate that usually kept quiet is now more comfortable voicing their grievances, it could mean they no longer care about their boss' opinion.
10) Voiced Dissatisfaction With Their Boss
Typically, employees will think long and hard before voicing dissatisfaction with their boss for fear of losing their job.
But if they know that they are not going to be there any longer, they can get bolder in their objections.
Thanks again
Mark Williams
Senior Management Trainer and Consultant