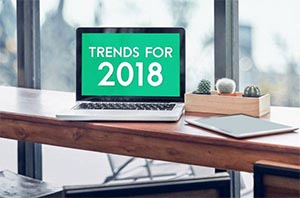 Innovation is part of the working world and managers must keep up with trends that can affect their business.
Whether it is a new technology, an industry fad or a new law, keeping up with the times helps managers be effective leaders, offer the best services to their clients and present the best working environments to their employees.
People Analytics
Not so much a trend as something that is here to stay, people analytics is being used by over 69 percent of companies currently, compared to only 10 to 15 percent before, according to a source.
What is people analytics?
It is highly detailed data about your workers' behaviours, actions, skills and more!
This information helps managers utilise a data-driven strategy to make standards, programmes and set benchmarks.
You can utilise people analytics to test the soft and hard skills of potential candidates to see if they will make a good fit to your organisation.
You can also monitor how quickly and effectively your current employees are doing their work.
Health & Wellness Apps
When employees are ill, it can cost the company a hefty sum!
In fact, a source explains that UK companies lose billions from employee sick days!
In addition, managers are aware that even if their staff members stay at the office when they are tired, don't feel well or are stressed out, they do poor work.
As such, health and wellness apps are new trends entering the business world.

This allows business owners and managers to track staff's activities, levels of fitness and performance.
The apps can help in many areas, such as reminding individuals when it is time to take a break so that they keep up their energy levels!
The apps can also teach your staff relaxation programmes, such as yoga moves and meditation tactics, to help them lower stress levels and maintain a healthy mind.
Artificial Intelligence (AI)
Artificial intelligence is quickly and ferociously redefining the business world, and it is a trend that all leaders must be familiar with.
Many well-known brands are using this technology to replace traditional workers and improve the customer experience.
Amazon is using AI to set prices on products.
Anyone that has used the online retailer knows that prices fluctuate by the hour!
What determines it? AI robots that analyse customer spending habits and adjust prices and even product descriptions to maximise profit.
Managers must decide if AI is right for them, and if it worth investing in the technology in the long run!
Thanks again
Mark Williams
Senior Management Trainer and Consultant
MTD Training | Management Blog | Image courtesy of Big Stock Photo