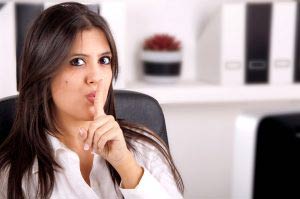 Just because a person got appointed to a leadership position does not mean they have the actual skills needed to manage people.
However, even the most experienced managers don't know all there is to know about being the most effective boss to their employees.
Below are 5 secrets that every single manager needs to know to do their job:
Just Be You
Managers often get so caught up in being a superior leader that they forget that they work with employees.
It is important to be professional at work, but there is a line between professionalism and fakery.

The secret that all employees want their manager to know is they just want them to be themselves.
Being open, transparent, low key and treating employees as equals will help leaders gain the trust and respect of their team.
Do as I do
Managers often make top level decisions, delegate and supervise their staff members, but they don't always put in the effort they expect from their staff.
The second secret workers hope their manager will recognise is that they want the manager to lead by example.

This requires the boss to put in the same hours as their workers, even during the busiest times.
Those that expect their employees to work hard need to do the same!
Create a Vision
It's hard not to get inundated by daily projects and tasks, but it is vital to create a vision and share it with your team members.
This can be simple goals for your team, or overarching big goals for the organisation as a whole.
When managers are able to set measurable objectives, it helps to motivate staff members to work productively.
Be Present
Another secret managers need to be in the loop in is the necessity to be present in the office.
You may think that you are already part of every single meeting and are there every day, but are you actually available to your employees?
If you are constantly on business calls, have your phone in your hand to check voicemails or are busy emailing, you are not truly present.
You need to be actually available to your workers, listening to their questions and chatter and contributing ideas.
Don't be Secretive
Secrecy drives a huge wedge between the employer and the employees.
Your workers are much smarter than you think they are, and they are often well aware of business problems and financial concerns.
The problem arises when the staff knows that the boss is holding out on them.
Don't promote a culture of secrecy—instead be transparent and turn to your employees when you need help!
They will appreciate your trust in their confidence.
Thanks again
Mark Williams
Senior Management Trainer and Consultant
MTD Training | Management Blog | Image courtesy of Big Stock Photo