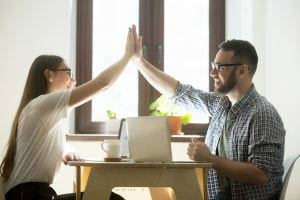 Appraisals don't have to be dreaded by either staff members or management.
Although they often have a bad rep, and have employees worried for weeks about possible negative feedback, employers should re-conceptualise this as an opportunity rather than a "review."
Here are five ways you can motivate staff to look forward to appraisals rather than dread them.
Avoid the Negative
While an appraisal meeting is a chance to discuss the employee's performance, that should never be done once a year.
Great managers know that they need to be observing their staff's work and providing them with consistent and instant feedback.
Nobody needs to wait months to hear that they did something wrong, once they have already forgotten all about a project or task.
Leaders need to notice errors or poor performance on the spot and address it then, and keep the appraisals more positive and motivating.
Look Ahead
An appraisal is an excellent time to look forward instead of looking bad.
Rather than dissecting how the previous year has gone, focus on what is ahead.
If you allow your employees to know that the appraisal is simply a way for you and them to work together on a plan for the following year, you will eliminate all of the stress they feel about you judging their efforts at work.
Make it About the Employees
Although your ultimate goal is to help your department or company thrive, that can't happen unless you have skilled, trained, motivated and empowered staff members.
As such, let them know that the appraisal is to help them improve and grow in their careers.
Nothing can be more motivating to them than knowing their boss is invested in their success and wants them to thrive.
Come Up with a Plan
If you don't want your team members to think you're all talk—come up with an actionable plan to help them be better versions of themselves next year.
What can help them improve?
This can be classes, training, coaching and other steps to help them learn new skills and become better experts in their fields.
Work with your employee to see areas they'd like to see growth in, and where they feel they have limitations in.
Create a timeline for certain objectives, and discuss methods that can help achieve those goals.
Provide Incentives
If you truly want to motivate your employees to do better, consider ways in which you can motivate them.
During the appraisal meeting, you can consider different incentives to help them learn, do better and try harder.
For example, you can offer gift cards for raised sales goals, time off after a long period of overtime or simply a party to celebrate the completion of a successful project.
Thanks again
Mark Williams
Senior Management Trainer and Consultant