Avoiding Negativity in the Workplace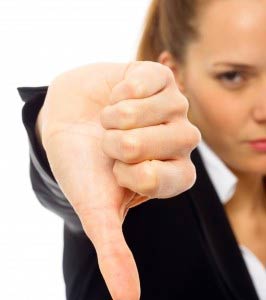 What's one of the best ways to keep your team motivated? Help them avoid negativity in the workplace, of course.
Here's what I mean. The other morning I was sorting through some emails that had piled up in my inbox. Amongst them were a bunch of newsletters from sales experts. I decided to glance at a few of the articles and by the time I was done I was feeling glum about the state of the economy and sales market. If I had kept reading I might've been convinced that my team and I would be out of the job by the end of the year.
What did I do about it? First, I recognized that it was the newsletter itself that was causing me to have so many negative thoughts – so I unsubscribed. Then I thought about the sales newsletters, customer service newsletters, and emails that get sent to my team members (from myself and from others within the organisation). I wondered – if I feel so bad about reading these things, how must my team members feel?
Pretty horrible, I imagine.
I urge you to take a few moments out of your day to reassess the types of communication you send to your team members or employees. Are they mostly positive or negative? It's often difficult to completely avoid adding a piece of negative information (the loss of a friend, retirement, illness, etc.) but does every newsletter need to be made up of mostly negative articles? No way.
Keep this in mind as you write your next employee newsletter, update email, or communication. Remember that the more positive the information you present, the better the mindset of the receiver. The better they feel, the better they'll work.
Thanks again,
Sean
Sean McPheat
Managing Director
MTD Training   | Image courtesy by Ambro of FreeDigitalPhotos.Net
Updated on: 2 December, 2009
---
---