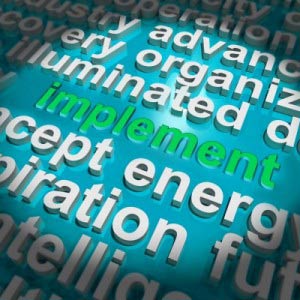 Change can be a touchy subject within many organisations. Not only do you aspire to make a change, but the physical plan must ultimately make it through the chain of command before it can be implemented. Once it is approved you have to find an effective way of implementing the changes you wish to achieve without alienating or causing fear in the people who are used to their current procedures.
In short, if not handled carefully you'll end up with a real mess on your hands. Don't forget to keep the following things in mind as you prepare to introduce a new change to your company or even your individual workgroup.
Don't Forget the People
Don't forget that any change you implement is going to impact the people within your organisation, whether you want to admit it or not. You'll likely shuffle job roles and in some cases people will change positions or join new teams. Some may even leave the company and these changes alone will impact everyone involved, whether they're personally involved or not. Make sure you frequently communicate with everyone in the office as you implement change. Remember, your team members are human beings too and no one operates well in uncertain conditions.
Make Sure Upper Management Cooperates
There's nothing worse than trying to get a job done in an environment where upper management doesn't take the time to embrace change. I've worked in offices where certain members of management, sometimes even the sales team, feel as though they're exempt from change. The truth is that they should be the mastheads for change, not the stragglers resisting at the end. Make sure that your upper management teams and CEOs learn about the changes you're implementing first. They need to set a good example for the rest of the workgroup.
Communicate Constantly
Communicate with every member of your team before, during, and after the change implementation process. Communication means making sure they understand why the changes are necessary, making sure they understand their roles in the process, and then confirming that they're implementing the changes correctly. Make time to listen to their concerns as well. If you don't, they won't feel inclined to cooperate with you.
The theme here is the importance of your communication skills. Your team members spend a lot of their time at work and should feel comfortable in their environments. Make sure you take the time to reassure them throughout the process, no matter how much time it takes.
Thanks again,
Sean
Sean McPheat
Managing Director
MTD Training | Management Blog | Image courtesy by Stuart Miles of FreeDigitalPhotos.Net