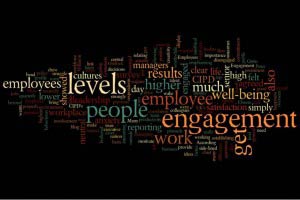 Many managers struggle to get their employees to be engaged with their jobs. Comments range from "I just can't motivate them" to "They're only here for the money" to "No-one wants to work these days".
Engagement for many is the Holy Grail, the pinnacle of team member involvement. But how can we get people to actually want to bring their creativity, their passion, their talent to work and really make a difference?
According to the CIPD's latest quarterly Employee Outlook survey, the UK's workforce is a "nation of employees who are simply 'not bothered' about their work", with 58% of respondents reporting only 'neutral' levels of engagement with their job.
Peter Cheese, chief executive at the CIPD, drew links between employee disengagement and recent high profile cases of "unethical behaviours and corrosive cultures overseen by senior leaders", emphasising the importance of establishing positive working cultures from the top down. He went on to warn:
"We know that strong employee engagement drives higher productivity and better business outcomes, so such a prominent display of 'neutral engagement' in the workplace should act as a real wake up call for employers."
The survey also showed a clear link between levels of engagement at work and more general well-being outside it. Engaged employees scored much higher on questions relating to life satisfaction, happiness and how worthwhile life is, also reporting much lower levels of anxiety than their neutrally engaged or disengaged colleagues.
The impact of good leadership on employee satisfaction was also interesting, with a clear correlation between high levels of trust in senior managers and lower than average levels of anxiety. Employees who agreed or strongly agreed that they felt properly consulted on important decisions had much higher levels of well-being than those who felt side-lined. Quite simply, as Ben Willmott, head of public policy at the CIPD put it:
"How people are managed on a day to day basis is central to their well-being beyond the workplace."
So, as we have said before, managing people is not going to get the results you require. Only by showing leadership of your people will they respond to your ideas and concern for results. Our previous blog on employee engagement showed that to get people to the fourth level (highest engagement) you need to provide the environment for them to drive themselves. Only then will you get full commitment to your results.
Many thanks
Mark Williams
Head of Training