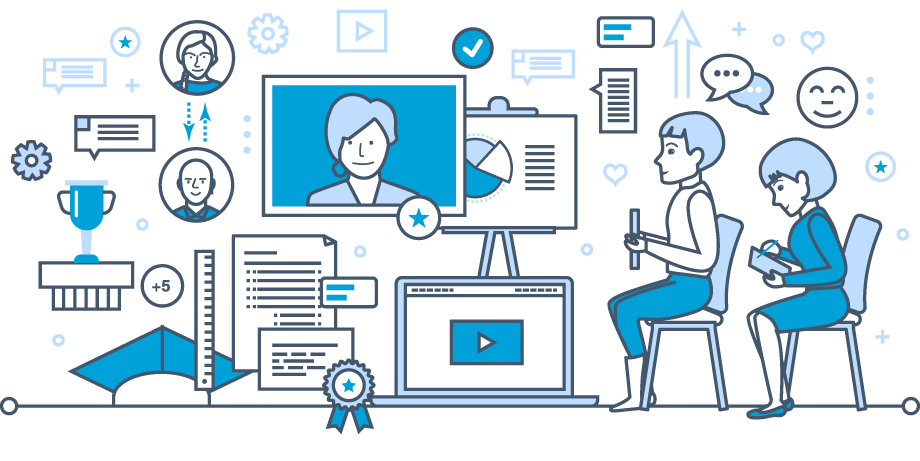 Just because your remote team is out of sight does not mean that they have to rely on self-directed learning methods to sharpen their skills or to improve what they do.
There's plenty of LIVE training and development that you can help them with and all of this can be delivered by you, their leader, through a LIVE webinar.
Don't think you have to be a whizz with the latest tech, you don't. With a little trial and error, a few dummy runs and some practice you'll soon be using webinars for all sorts of training events.
What Is A Webinar?
In case you don't fully know, a webinar is an engaging online event where a speaker, or small group of speakers, deliver a presentation to a large audience who participate by submitting questions, responding to polls and using other available interactive tools.
Webinars are also flexible in regards to format. The content in a webinar can be recorded and shared or repurposed in a variety of formats.
It's not just the latest version of "chalk and talk" delivered online.
It's interactive so think about this right out of the gate. Armed with that thought you can really make your webinars stand out.
Here's how…
Webinar Tips & Structure
Keep them between 15 minutes and 2 hours in duration
Ensure you include a break for anything over 45 minutes
Plan in interactivity – polls, Q&A on chat, Q&A using voice/video
Make your visuals look beautiful (it will be a big turn off if they're not)
Check your designs on a mobile (not everyone will be using a desktop)
Mix up your webinars – single speaker, multi-speakers, panel discussions, just Q&A
Set clear objectives for your webinar – don't try to cover too much
Before the event ask for some questions upfront (weave them into the webinar)
After the webinar ask for some feedback from your team
Ensure that you understand the platform you're using – practice!
A Beginners Outline
If all of this is brand new to you, here's a format that you can steal!
Pre-Webinar
Ask for any questions related to the topic and give a deadline.
Ask your team for any scenarios and situations where they need help in with regards to the topic.
Use that information and weave it all in to your webinar.
Don't just deliver what you think they need. Ask them. You'll get better buy-in.
Webinar Flow
Introduce the topic and share the objectives of the session
Ask people to put any questions they have in the chat section
Ask a poll question straight after. Requiring a quick "yes" "no" answer
Show the data on screen of the poll and either discuss the answers or make your own observations
Discuss the issues faced with the topic or what needs to be improved – prepare slides for this
Use interactivity to share delegates issues with these
Think solutions – create tips, techniques and strategies to help your team
Share these one by one. What is it? Why is it important? How can they implement it?
Create 3 or 4 of these opening the lines for questions after each one
Answer chat questions as they arise in the chat box or save until the end
Where possible ask for quick polls during the webinar
Conclude what you've covered and ask for actions that your team will take
Follow up with your team after the event for feedback
That's a quick outline for a complete novice.
I haven't gone too techy or too complex because I don't know where you stand on your ability.
Hopefully it will help you!
Being able to design and deliver a webinar will give you a lot of confidence in your leadership skills.
It's important that you develop your skills through this COVID-19 crisis as well.
That's why I developed an ILM & CPD accredited Online Management Course that you can take if you want to brush up on your management and leaderships through these tough times.
You'll receive both an ILM and CPD certificate!
We also offer LIVE Management Training Webinars and Bite Size Training sessions too.
I'll see you next week (virtually anyhow) with some more tips.
Until then, stay safe and stay at home!
Thanks again
Sean

Sean McPheat
Managing Director