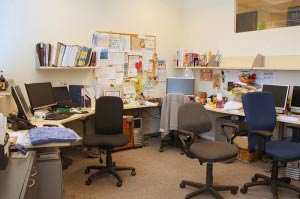 Unplanned absence from work is said to cost over 40 million work days per year in the UK alone, which is a huge percentage of production time lost.
Is there anything you can do to manage absenteeism without risking claims of discrimination? Yes, there is. There are several things you can do to protect your team and business, including a) understand the scale of the problem, b) discover the underlying causes and c) take a positive and methodical approach to solving the problem. You can read some interesting ways to get absentees back to work here
First, can you actually measure the effects of absence?
One way is the Bradford Factor, which takes account of the fact that persistent short spells of absence are much more costly and disruptive than occasional long ones. It measures irregularity of attendance as follows:
Bradford Factor = S x S x D
In this equation, S = the number of spells of absence over a time period (say, one year), and D is the number of days absence in the same period.
For example, if a person has been absent for one period of 10 days, the figures would read: 1 x 1 x 10, which equals 10.
But if they were absent for 10 separate days over the same period, the figures would read: 10 x 10 x 10, which equals 1,000.
It may only be a crude measure, but many employers use the scale as a realistic comparison of disruption.
So, you need to formulate a policy in order to tackle absenteeism effectively. The most effective absence management policies are based on the following principles:
* A balance of concern for cost and concern for people
* Keeping people informed
* Quality Information
Whatever your absence management policy, there are some actions you can take to help you achieve better results in this area:
Act Early: If you notice increase in absence or changes in the pattern of absences, investigate and take action before it becomes a major problem. You don't want it to become so overlooked that it is seen by some as an acquired right to extra leave.
Seek Advice Early: Some issues may involve medical, psychological, legal and contractual situations, so try to get specialist advice before making any decisions on how to approach it. Avoid impulsive decisions and actions, and get HR or your people development department involved. Talk about chances and opportunities for transitional roles for the person who is the subject of your absence enquiries.
Be Methodical: Collect data consistently and carefully. Keep good records, see that everyone has a return-to-work interview and communicate fully and completely with people involved. This way fairness and relevance never becomes an issue of contention.
Be aware that some people may take absence because they have outgrown their role and are 'rebelling' against the systems or processes you are running. Boredom can be just as stressful as overwork, so be aware of the rationale people use to justify their being away from work.
If it has become a real problem, discuss other opportunities the person may have within or without your department. You don't want to pass the problem onto someone else within your organisation, but you cannot afford to carry passengers, so let the person know that you need their help in dealing with the issue as well.
That way, you are offering them the chance to deal with their absence issues in an adult and professional way. Help the person to realise the impact their absence is having on results and their team mates. Employ a culture of care within the department, and encourage people to bring their problems to you before they become the foundation of a culture of absence.
Thanks again
Sean
(Image by Avital Pinnick)
Sean McPheat
Managing Director