How To Effectively Work To Deadlines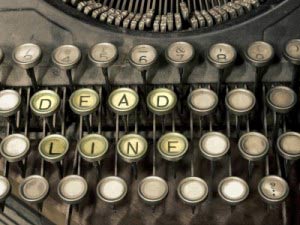 One of my favourite authors, Douglas Adams, wrote about his publishers' deadlines: "I love deadlines; I love the whooshing sound they make as they pass by!"
Deadlines that are set for your projects can be a helpful driver or a fearful hinderance. Depending on your work style, you can either welcome the focussed nature of a piece of work that has a definite finishing point, or be distracted to the point of madness with the pressurised combination of worry and need for perfection.
When you're about to set a deadline, always do it consciously. Stop, pause and consider the value of the deadline before acting. Here are some do's and don'ts regarding deadlines:
DO:
Set deadlines when the person responsible for achieving the end result has direct control over the resources to complete the job. That way, you can set an accurate assessment of the time required
Set stretching and achievable deadlines for productivity
Encourage urgency and quality planning
Break down the major objectives into milestone achievement-points
Communicate the value of the result of achieving the deadline with all those with responsibilities for it
Be optimistic but realistic about the timing
Think and plan the journey. Then keep monitoring the progress
DON'T
Set deadlines when you need to achieve objectives that rely solely on people outside your direct control. Instead, set objectives and targets and work with them to create deadlines that all agree with
Let your desire for productivity affect your realistic outlook
Set deadlines for real creative work that needs a journey rather than a destination. You need to encourage creative thought over the long-term
Put pressure on people by micromanaging. Instead, allow them to report on progress themselves.
Creating a proper mindset for deadlines is possible if the planning of the journey is considered and realistic. Making the deadlines unrealistic affects the thought processes required to achieve it by building too much pressure. Allowing yourself and others the time to achieve reduces the pressure cooker affect and encourages creative ideas to flow. The result should be a well-constructed, thoughtful journey that gets results.
Many thanks
Mark Williams
Head of Training
MTD Training   | Image courtesy by FreeDigitalPhotos.Net
Updated on: 17 September, 2012
---
---