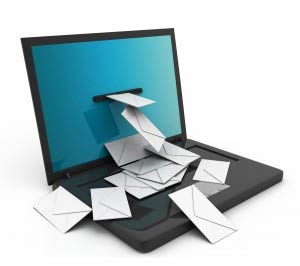 Psychologists are confirming that our attention spans are getting shorter and shorter. Many people put it down to what they call the 'Sky News' effect…bite-sized chunks of information delivered in record time, to allow people to get on with their lives, chock full of information.
When you think of emails, they need to link in with the way people's attention spans are going. Think about it…how do you feel when you receive a long email? Do you put off reading it? Or just get on with it with a heavy sigh of 'here we go!"?
Your email communications with customers and colleagues are made to provide value and/ or move the process along. They're not an art form where people will tolerate a slow opening act or introduction.
Think of these five questions before you put an email together:
What action steps do I want my reader to take?
What objectives am I trying to achieve?
What's my intention with the email?
What words am I putting in that don't add any value?
Is my subject line concise and detailing exactly what the email is about, so the reader opens mine before any others in their inbox?
Remember that, in an email, you don't have any tone, inflection, colour or depth to it because you have lost the voice and body language. Your message relies on your word choice, structure and the reader's interpretation. Have a look at this sentence:
Please tell me what you want to do.
Where were the inflection and the emphasis in that sentence for you? What meaning came across?
Also, asking someone to do something can come across as abrasive if you don't word it correctly. Even the word please can sound like an afterthought if you're not careful…
"Send me the Bradshaw report, please" might sound somewhat robust if read incorrectly. Try a softer approach, like "When you have a moment, please could you email me the Bradshaw report? Thanks."
If the email is going to be long, consider putting it in attachments or bullet points, so the reader can break it up into manageable chunks. Make it easy on the reader's eyes.
Set it out in paragraphs and bullets rather than in one massive lump of text that is a strain on the eyes.
Be judicious with your 'reply to all' messages. One thing that I get stroppy about is when I get emails that I don't need simply because an emailer has included me in the list without thinking whether I need to know it or not. Give me a break!
Put your contact details at the bottom of the email, especially if it's going outside the company. Unless for some reason you don't want people to know your phone number, your contact details help people to identify you better.
Put your Linked-in, Twitter and Facebook addresses in too, as it shows you are social-media savvy.
And finally, don't send an email as a substitute for talking to someone. We have a plethora of information in our world, but we've never been so poor at communicating, so don't add to the problem.
If you play the email game correctly, you will be thanked by your receivers, rather than cause them headaches.
Thanks again
Sean
Sean McPheat
Managing Director
MTD Training   | Image courtesy by ddpavumba of FreeDigitalPhotos.Net