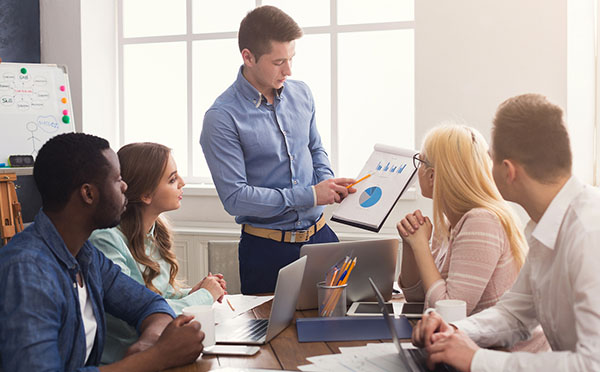 Many managers we talk with express their desire to manage and lead more effectively, and we often get asked 'is there one thing that can make a real difference in the way I get results from my team?'
It's difficult to pinpoint one aspect that would make such a difference, as management is an amalgam of disparate ideologies and components.
Yet, if there was one question that could revolutionise the way you get results from your people, I have not found a better one than that which I have highlighted below. Before I get to that, let's make a few points here concerning managers who irritate and frustrate their team members.
Our research has uncovered many things that managers do that could cause people to resist putting the required efforts into performing at their best.
As you read through these, ask yourself if you are ever guilty of carrying these out…
Not giving adequate feedback to team members on their performance
Find it difficult to delegate responsibilities to others to make them develop their skillsets
Does not recognise overall performance of individuals
Is inconsistent in the way you behave overall
Criticises in public
Is not managing conflict in a way that harmonises relationships
Doesn't always deliver on promises
Emphasises and focuses on what people do wrong and not try to catch people doing something right
Is dogmatic and autocratic in style
Does not talk about company values or vision regularly
There are, naturally, many other sources of demotivation and irritation in a team, but are you sometimes finding yourself following these paths? If so, join many others who put the emphasis on bottom-line results rather than the people who achieve them for you.
Many managers keep their eye firmly on the results being achieved, rather than assisting those team members who need help on the journey. Which brings me to that question.
What question could you ask yourself that could revolutionise the way you get people to engage in their work?
Well, as managers, we set the scene and the example for people to perform.
So, look at those 10 points above and ask yourself:
"If I was on the receiving end of any of those behaviours, how would I feel?"
Imagine your manager followed any or all of those ten points.
What would your response be? How would you be reacting? What would your corresponding performance be?
Of course, some of those points are more applicable and relevant to your situation than others, so you need to understand what impact your behaviour is having on your team and then work on those specific behaviours that have the greatest influence on morale and engagement.
There aren't many things that you can do that will have a big influence on how your team perform, but your behaviour is definitely one thing that has a massive influence.
Remember, people are inspired or demotivated mostly by their immediate manager, so ask yourself that one question and decide how you're going to lead your team from now on.
Want to learn more? Then why not book an Advanced Management Skills course with MTD.
Thanks again
Sean McPheat
Managing Director