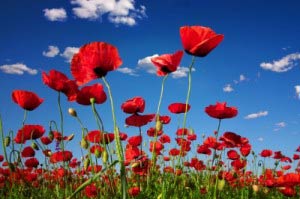 Today is 11th November 2013 and is Remembrance Day. The day in Commonwealth countries (since the end of World War I) we observe remembrance for the members of our armed forces who have died in the line of duty. Yesterday was Remembrance Sunday which is traditionally held on the second Sunday in November and saw ceremonies held at The Cenotaph in London and local war memorials across the UK and the Commonwealth. Remembrance Day is observed on 11 November to recall the end of hostilities of World War I.
The date was chosen as the 'Great War' (as it is also known) formally ended "at the 11th hour of the 11th day of the 11th month". The red poppy has become a familiar emblem of Remembrance Day due to the poem "In Flanders Fields".
Poppies bloomed across some of the worst battlefields of Flanders in World War I and their bright red colour was symbolic of the blood spilled during the war.
This year I was touched by the volume of support for Remembrance Day on social media. Twitter was absolutely buzzing on Remembrance Sunday and in the weeks leading up to it with messages and poppy pictures.  
Social media has definitely increased the level of support for our armed forces and charities that help the injured and/or work with bereaved families.
I was especially heartened by how many young people were tweeting their respect for the occasion.
As an educator I am always helping people to understand their strengths but also awareness of their mistakes. I do this to be absolutely sure that they can learn from them and not repeat them again in the future.
I find it so sad that as humans in general we have failed to learn from the horror of past wars and that conflict continues to cause death and suffering throughout the world today.
Having said that I am also a massive supporter of our armed forces and believe it is important that we maintain an effective deterrent and the ability to defend ourselves if attacked.
I am also an avid believer in diplomacy and the importance of effective communication as a tool to prevent disagreement and religious or racial intolerance, escalating to the point of war.
We will pause at 11am today to further pay our respect to those that sacrificed their lives in war so that we could be free.
Thank you for reading.
Mark Williams
Head of Training
MTD Training   | Image courtesy by Evgeni Dinev of FreeDigitalPhotos.Net