Should Business Leaders Be Promoted From Within?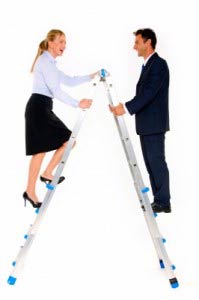 Microsoft has just announced that its new CEO will be a 22 year Microsoft veteran, following on from another Microsoft veteran.

When Steve Ballmer announced his retirement as chief executive of Microsoft in August shareholders cheered and Microsoft shares jumped up more than 7%. They had witnessed the once undisputed hi tech business fall far behind rivals Google and Apple during his 13 years in charge and they relished the prospect of a new leader. Many would have preferred an outsider as the new CEO, someone with fresh ideas but Satya Nadella, a 22-year Microsoft veteran, has been selected for the top job.
Global consulting firm Booz and Company's most recent annual study of the world's largest public companies, showed of the new chief executives appointed in 2012, insiders were chosen 71% of the time. Outsiders 29%.
There are obviously pros and cons for both options and good arguments can be made on both sides. There are some great success stories where fresh blood at the top (from a completely different industry) has transformed the fortunes of failing companies. We wrote recently about the amazing work done by Carolyn McCall at EasyJet.
On the other hand it is not a great career progression example to set your hard working board members. I have worked for a business that bought in a new CEO rather than promote internally and the morale among the senior management team went through the floor. Many eyebrows were raised when the most British of institutions 'The Bank of England' appointed a Canadian, Mark Carney as its new Governor.
Imagine an ocean going superliner where the Captain is retiring. You could argue that a ship is a ship is a ship and therefore a new captain from another vessel would be just as capable of taking over as an internal candidate. The new Captain would come with a fresh perspective and energy but would that make up for his lack of knowledge of the new ship and its crew, compared with an existing officer?
The right answer for me is that the best CEO should not be a choice from an internal or external candidate. The decision should be based on the merits of each individual regardless. Who is the most appropriate person to move the business forwards in its current situation? Who is the most experienced, the one with the previous history of success? If the business has plateaued and become a little stale like Microsoft then maybe this was their chance to appoint a charismatic and dynamic outsider as CEO, rather than another cut from the same cloth as the previous one!
I wish Satya Nadella every success in his new role and it will certainly be a challenging one. I will be the first to admit I am wrong (in writing) if he proves to be an excellent choice.
Many thanks
Mark Williams
Head of Training
MTD Training   | Image courtesy by Ambro of FreeDigitalPhotos.Net
Originally published: 12 February, 2014
---
---