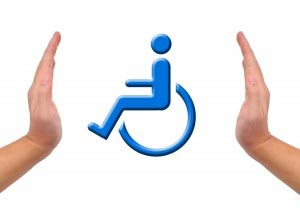 With over 10 million individuals registered as disabled in the UK, an ever growing number of employers are finding themselves in the process of recruiting or hiring members of the disabled work force. Helping disabled employees to make the most of their time at work begins by taking steps to ensure that adjustments are made to make sure they are able to complete their work tasks.
While it may seem daunting to hire those with severe disabilities, many of these individuals can adjust to the workplace with some simple and reasonable changes. Some of the obvious accommodations that should already be in place include ramp access to buildings, elevator access to upper floors, handicap accessible stalls in the lavatory, and doors that are wide enough for a wheelchair to pass. These basic access accommodations are typically accounted for when the office space is built, though occasionally door handles and light switches may need to be lowered to be reached from wheelchair height.
Employers may have to take creative measures to ensure that disabled employees are able to be as productive as possible if their limitations extend beyond mobility. For example, if an employee suffers from social anxiety, allowing that individual to work in a private, quiet office or to telework from home. For individuals who struggle with remaining focused when distracted may also benefit from a quiet space, or may find that declaring certain times of the day "interruption free" and requesting all but the most urgent queries be saved for later.
Some employees may find that assistive devices are required to help complete tasks. For blind employees, providing computer programs or portable devices that read text out loud can allow the employee to complete project work far more efficiently than they could through the use of brail. Employees with mobility issues or back difficulties may find that having a reaching and grabbing tool assists in reaching objects pushed to the back of a desk, set on a self, or that have been dropped on the floor. Since asking for this type of assistance may be embarrassing, having a few of these inexpensive devices on hand with the office supply stores may be greatly appreciated.
For employees who are struggling to navigate the office space, it may be necessary to engage in some creative redecorating. Shifting furniture to allow room for a chair to pass through or rearranging an employees' workspace to better fit their needs can be a quick (and free!) means to help disabled workers complete their tasks.
There are times when reasonable accommodation may not be enough to permit an employee to complete certain tasks. For instance, allowing an able-bodied employee to carry documents or complete filing tasks while the disabled staff member handles phone calls and emails from a desk set up to meet their needs ensures that all the required tasks are completed and the disabled employee is able to maintain their dignity.
In the end, maximizing the effectiveness of disabled employees must begin with discussion. It is important that reasonable accommodations are provided for disabled employees, but they must not be based on assumptions. Having the supervising manager speak directly to the employee regarding the changes they feel are needed for them to complete work tasks may reveal that simple changes to the office or the methods used to complete tasks will lead to significant leaps in productivity for the employee.
Many Thanks
Mark Williams
Head of Training and Development
MTD Training   | Image courtesy by Teerapun of FreeDigitalPhotos.Net