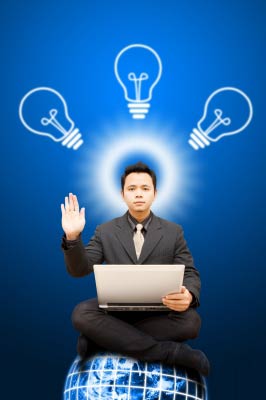 We have just been running some creativity and continuous improvement workshops for a company and I thought I would give you a nudge to think about how you too can improve your team and business.
Everyone loves big, dramatic ideas.
In fact, the bigger and sexier the ideas, the more people are drawn to them.
A lot managers look for the golden bullet idea and by focusing all of your energy on this you miss out on a lot of smaller ideas that have a huge impact.
Let me illustrate this with an example.
Before I founded MTD, one of my earlier jobs was Head Of Operational Planning for Barclays Contact Centres.
It was my responsibility to plan out how many call centres we needed, how many staff, IT etc
I concentrated my team on looking for small ideas that had a large impact.
Here are a few of the ideas that we implemented and the impact:
* We recommended a change to the greeting of each call within our contact centres.
This reduced the average call length by 2 seconds without any impact on the quality of customer service.
Now, 2 seconds does not sound a lot but when you are taking 33 million calls per year it soon adds up!
I can't remember exactly what the figures were but I know it saved us something in the region of £20,000 per month
£10,000 saving per second per month!
* Multi-Skilling
Instead of recruiting for certain departments we multi-skilled our workforce so that they could carry out multiple tasks and services.
This required training and a reward system based upon a skills matrix but it saved us recruiting an additional 20 members of staff at £15,000 each.
You see, by focusing on the small wins you gain great rewards.
You do not have to come up with ideas of new products or new ways of doing business.
Instead, look closer to home and look at your existing processes and ask yourself:
CAN WE DO THIS BETTER?
CAN WE DO THIS MORE EFFICIENTLY?
Think "Small" first and the big win will come.
Until the next time, take care of yourself
Live, love and laugh
Sean
MTD Training   | Image courtesy by watcharacun of FreeDigitalPhotos.Net