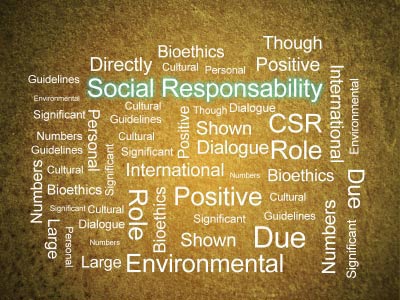 I am a massive fan of Social Enterprise and I am sure you are all aware of what it means but just in case. A Social Enterprise (SE) is either a Limited Company (LTD) or Community Investment Company (CIC) and both will generate income, the difference to a normal company however is that the profits are used to support social projects within a community or specific sector as outlined by the SE themselves.

The growth of a new breed of entrepreneur (the social entrepreneur) has been phenomenal. These people are not 'socialists' in the political sense (although they might be), they are people that want to start and grow a business but have a far greater motivation that just money.
Social Enterprises are a serious threat to established companies that they will compete with for contracts. Every single large public or private organisation will have a Corporate Social Responsibility (CSR) policy and working with SE businesses will often tick boxes. The threat is not that the SE business will be cheaper, in fact many SEs will be more expensive than their competitors. The value to the client is the connection and relationship with the SE and their specific cause. This 'draw' to do business with a SE is even greater if they are based in the same area as your business and the current supplier is not!
Social Enterprises also attract a different breed of employee. Employees that are passionate about their job but also about what the business stands for and the social impact it can have. Job satisfaction is higher and so is engagement. Retention rates are high so staffing and training costs are reduced.
If you have a large core business that you would not wish to run as Social Enterprise then why not consider setting up a separate new business. This could become a proving ground where your managers could go on assignment and learn new skills from working in a start-up business. The relationship could work both ways with staff from your SE spending time in your core business.
The opportunities are vast for Social Entrepreneurs and there is a real appetite from Government and Philanthropist investors to invest in new initiatives.
These are the key findings in a recent report by Social Enterprise UK:
Close to a third of all social enterprises are three years old or younger, with three times the start-up proportion of traditional SMEs.
Social enterprises are very heavily concentrated in the UK's most deprived communities. 38% of all social enterprises work in the most deprived 20% of communities in the UK, compared to 12% of traditional SMEs.
Social enterprises are far more likely to be led by women than mainstream businesses. 38% of social enterprises have a female leader, compared with 19% of SMEs and 3% of FTSE 100 companies.
91% of social enterprises have at least one woman on their leadership team. 49% of mainstream SMEs have all-male directors.
56% of social enterprises developed a new product or service in the last 12 months compared to 43% of SMEs.
In summary, Social Enterprise is THE fastest growing and most innovative business sector in the UK so embrace and encourage it! I do.
Many thanks
Mark Williams
Head of Training
MTD Training | Management Blog | Image courtesy by David Castillo Dominici of FreeDigitalPhotos.Net