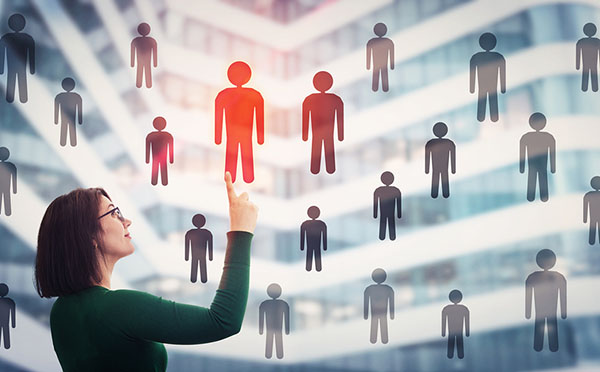 Most managers we talk to are keen to discuss all aspects of talent management. Their interest is piqued when we ask questions like, 'How do we attract the right candidates to apply for jobs at our company? What can we do to keep talented employees engaged? What are the main concerns of someone who we would class as 'talented'?'

Firstly, here's a confession. I actually don't like the term 'talent management'. Personally, I don't think talented people should be managed. They need to be supported, yes. Lead, yes. Probably delegated to. Encouraged and motivated, of course.
But 'managed'? I don't think so.
As soon as you start 'managing' people like that, you run the risk of pigeon-holing them, holding back their creativity and innovative thinking, placing restrictions on them and stopping them from progressing.
By leading them, facilitating their learning, encouraging their growth and development, creating options for them to choose and diagnosing which way they should progress, you enable their performance and build capability in their activities.
So, how can you lead your talented people and get them to drive the department's performance forward?
Here are some ideas.
How to find and attract the talent
While pay and benefits will ensure that the top talent sit up and take notice of what you have to offer, you need to think more strategically than this.
You need to "position" your company in such a way that it becomes a highly desirable place to work to outsiders.
Think of how you can accomplish and illustrate the following to talented people:
How can you develop the image of your company to the outside world?
How can it be recognised to others that it achieves results and delivers a superior service and/or products than the rest?
That you offer a degree of job security?
A remuneration and benefits package that rewards performance and effort
You offer excellent training and development opportunities
You offer career progression Great working conditions and environment to work in
For the top talent to be attracted to work for your organisation, it is very useful that they have some kudos about working with you.
What would it be like for them to have your company name on their CV?
Would it dramatically improve their employment prospects in the future?
With this, you want to get them "in" to your company.
When they are there it is your job to ensure that they stay there and develop their talent so that they will not leave.
How to keep your talent
Before mapping out any retention strategy, I recommend that you take a current state assessment of where you are and analyse the reasons why your staff currently leave your company.
To that end, if you do not complete exit interviews, I recommend that you start to do them and if you have this data to hand, start analysing the reasons why.
Notice any trends of dissatisfaction and produce a "Hit list" of areas for you to look at as part of your overall retention plan.
You will need to identify the key roles and people within your company and ascertain the likelihood of:
Them leaving your company
The impact it would have on your business
How easy it would be to replace them
The costs associated with replacing them
Who would step into their role in the meantime, and
The knock-on effect to their work.
Armed with all of this data, you can start to brainstorm the various work-streams that are required. You will be able to group common themes together and produce an action plan for each one.
From our experience of working with over 60 HR and Training departments, here are some of the key areas that might come out of your analysis:
PAY
Is what you are offering fair against the roles that your staff are asked to complete and are they fair and competitive against similar roles in the marketplace?
Things to look at:
Job evaluation
Performance management grading and reward systems
Market analysis
Pay reviews
Incentive payments
WORKING CONDITIONS
What is it like to work here?
Things to look at:
Office design
Facilities
Child care
Gym
Restaurant
Free coffee
Ways to reduce stress
WORKING ARRANGEMENTS
Are these fair and do they encourage a work/life balance?
Things to look at:
Shift arrangements
Working patterns
Different shift policies
JOB DESIGN
Do your current job designs and descriptions promote variety and empowerment or are they very prescriptive?
Things to look at:
Would a high achiever be attracted to the design?
Does it empower them to "make a difference?"
Will it stretch them and enable them to grow?
INDUCTION
First impressions last. What first impression do you give to your staff about your company when they first join you?
Things to look at:
Is adequate support in place in the early days?
Do they have work to complete or do they feel like a spare part?
What are you doing to get them to mingle and know their colleagues?
SOCIAL
What are you offering to enable your staff to make connections within the workplace?
Things to look at:
Is it enjoyable to work at your company?
What social events do you promote?
What opportunities do your staff get to get together and make connections?
SKILLS DEVELOPMENT
Anything that is not growing feels that it is regressing. The same will go for your staff if you do not show a genuine commitment to their training and development.
Things to look at
Have all staff got development plans in place?
Do you regularly offer internal as well as external training?
Are you using individual coaching for your high flyers?
GET THE RIGHT PEOPLE IN THE RIGHT ROLES
When we were brought in to analyse the reasons why people were leaving in a company, we actually found out that 54% of the staff left because they did not feel that they were matched correctly against the role!
This goes back to your recruitment and selection criteria. Make a mistake in matching people against roles and you will naturally have high turnover rates because of this.
Things to look at
Is your selection and recruitment policy the right one?
When was the last time you reviewed your policy and methods?
How much time do you devote on getting it right first time?
RECOGNITION
Staff want to know and feel as though they are doing a good job.
Note that I say "Good Job" here.
Many companies only give praise and recognition for great or outstanding work and this leads to a culture of taking people for granted.
Then when they leave you wonder why!
A pat on the back goes a long way.
You should recognise people for what they do whether it is asked of them or whether it is over and above their duties.
Things to look at
Do you have a praise culture?
Do you have a recognition scheme in place?
Do you have different levels of recognition? i.e corporate thank you cards, formal recognition process etc
COMMUNICATION
Do your staff feel informed?
Do they know what is going on within your company and more important, why?
Lack of communication throughout the company leads to mistrust and a "Them and us" mentality. This has an impact on moral and the climate.
Things to look at
What communication processes are in place?
What are the channels of communication like where you work?
If I picked a member of staff at random and asked them how the company was doing and what it was currently doing, would they know?
Training & Development
Showing that you are committed to the development of your staff will go a long way to keeping them with you for years to come.
Most of the organisations that we come across have implemented a Management Development Programme of some sorts for their leaders and staff with high potential.
We have indeed delivered a lot of them, so we know the impact that they have on the future Senior Managers and Executives of tomorrow. As part of any MDP we design and deliver we often go back into the company at set times to evaluate the impact that the programme is having on the staff and the results have been truly remarkable with improvements in productivity, leadership and self-motivation. They really do pay off and deliver the results.
You may also want to have a look at the following with regards to your Training and Development efforts:
Do all of your staff have objectives and a self development plan in place?
Do you make any provision for a high flyers programme?
Do you run internal as well as specialist external training courses?
Do you offer online training as an option?
Do you offer one to one coaching?
Do you offer development opportunities for competencies and behaviours as well as skills development?
Do you offer the opportunity for your staff to get further qualifications?
Do you offer your staff the ability to lend or purchase business and self development books and cd's?
Succession Planning
There are two main approaches when it comes to succession planning.
The first is to identify your members of staff with potential and then "earmark" them against particular roles in your organisation. They could be "earmarked" next to several roles at the same time.
Hence, if someone leaves you have a successor ready to take over.
Whilst this may seem a straight-forward and prudent approach it is not very flexible.
Roles and responsibilities change all of the time and so can the circumstances.
For example, if someone leaves in the middle of implementing a major project you may need a different type of person to see it through. That is not a negative comment on the person that is due to take over but the circumstances may require a different personality at that time.
The second approach, and my personal favourite, is to identify a group of people from which the company will choose and select the right person. This will depend on the circumstances at the time, their current performance, the demands of the role and any other factors at that time.
This provides you with the flexibility to make the right choice – a choice that is not predetermined beforehand but one that is made in the here and now.
Rewards
No Talent Management article would be complete without the mention of the importance to make sure that your reward and remuneration policies will attract, retain and motivate your key people.
You need to think of the following:
Will your salary scales attract the level of staff that you are after?
Do you offer individual bonuses linked to individual performance?
Do you offer team bonuses linked to team performance?
Do you offer company bonuses linked to overall company performance?
Do you offer reward and recognition programmes?
Do you offer health care?
Non-contributory pension?
Gym membership?
Child-care facilities?
Share schemes?
Do you offer attraction bonuses?
Loyalty bonuses?
What are your competitors offering?
What is the industry as a whole offering?
What are you doing different to the rest?
Talent management is the key to the performance of your entire department. By putting these concepts into action, you increase the chances of you succeeding in keeping your talented people highly engaged and motivated.
Thanks again
Sean McPheat
Managing Director