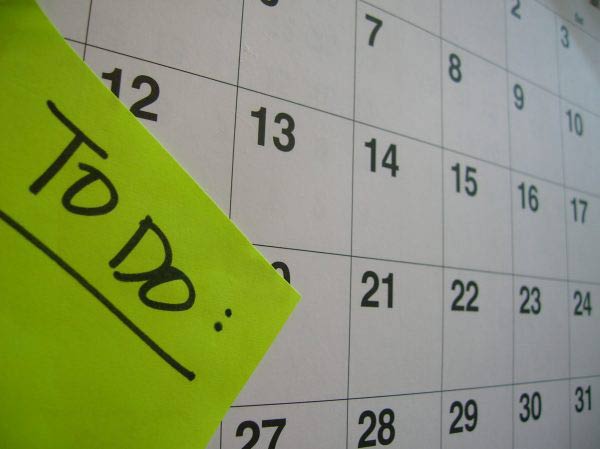 Your schedule is likely already overflowing daily and you don't have enough time in the day to cross all of the items of your list.
The title of this article may make you even more overwhelmed by asking you to do add more items to your to-do list; however, it will make you more successful and more efficient, we promise!
1) Create a daily schedule
It's one thing to have a to-do list with all of the upcoming projects and tasks, but it's another thing to review it daily and create a schedule.
This helps you from simply going down the list, but concentrating on the most pressing and important items to do first.
This way, you will get them out of the way and complete the non-urgent tasks when you have time.
2) Delegate
Every morning, after you review your daily schedule, assign and review goals with your employees.
Keeping in mind what projects they are already working on, you may make changes or keep them on the same track.
This process allows you to keep up to date with all that is due, and adjust responsibilities as needed to make sure ad hoc requests are completed and not fall through the cracks.
3) Focus on wellness
Don't forget to focus on yourself and your health throughout the day to keep up energy levels and maintain mental acuity.
Start by planning what you will eat throughout the day, whether you will prepare the meals ahead of time or pick them up.
Schedule out your breaks during the working day to give your mind a chance to rest and come back fresher than before.
4) Check in with your staff
It may be tempting to close your office doors and drown yourself in work, but a successful manager always remembers that they are the leader of the team.
This requires constant checking in with your employees to analyse on their progress, provide instant feedback and evaluate on their emotional statuses.
5) Promote Teamwork
At least once a week, plan an activity for your department which promotes teamwork.
These can be games, activities, scavenger hunts and contests with the aim to get your employees to work together, communicate, listen to one another and develop trust and respect.
6) Focus on Innovation
At least once a month, meet with your team to discuss how operations, projects and everything else is currently being handled and discuss ways to improve the status quo.
If you set aside time to discuss innovation, and encourage your employees to come up with ideas, that is the first step to the process!
Thanks again
Mark Williams
Senior Management Trainer and Consultant
MTD Training   | Image courtesy of Big Stock Photo