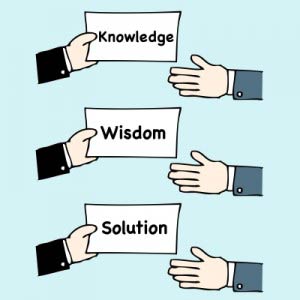 Let's face it, as managers and leaders one of our key goals is to build an effective and cohesive team. When we have achieved this we do our best to keep the team intact for as long as possible.
I am sure, like me you have all been a victim in your career of the manager that just won't let you go! The one that will do anything to stop you leaving! They even play down your skills to their superiors or 'peers' to hinder moves.

So is this the sign of a good manager or not? Well it depends on your point of view but mine is very clearly NO!
Great managers for me are the ones that are constantly developing and growing their individual team members and when the time is right they are proud and happy to let them go.
I'm proud to admit that in the late 90's I recruited a young sales graduate into my team. She showed great promise and I nurtured her career for the following three years. As it happened we both left that business within a few weeks of each other to join other companies.
Some six years later she head hunted me into HER team! Was I upset by her outstanding progress? Absolutely not, I was proud and delighted to work for her.
In order to be comfortable to let people go you need to have their replacement waiting in the wings. Get a reputation of promoting from within, rather than poaching from elsewhere in your business or externally. People are more likely to be loyal to you if you are loyal to them. Having said that, nothing keeps people on your toes and motivated more than knowing if you do drop the baton, there is someone right behind you ready to pick it up!
Here are some of my Top Succession Tips:
Take the odd risk and promote early, appreciating that you will have to coach and supervise more than is ideal to start with.
Also build a reputation as a 'trainer' and instil a learning culture where people see formal training sessions as a reward for good performance rather than a remedial action for poor performance.
Talk openly to people about how they are feeling, especially top performers that seem to be plateauing in their performance. If you think you have taken them as far as they can go in your team then let them go! Celebrate it! If you allow senior team members to plod along they will soon start to have a negative influence on your junior people.
The problem with most managers is they only think about learning when there is a 'problem' to be fixed and they only think about recruitment when people leave! On the other hand great managers are constantly talent spotting and always developing their team.
It doesn't matter if you are a junior manager or a senior experienced one, ensure you constantly work on your own recruitment and coaching skills! The time investment will pay dividends as you see your own career soar!
Many thanks
Mark Williams
Head of Training
MTD Training | Management Blog | Image courtesy by Nong Pimmy of FreeDigitalPhotos.Net