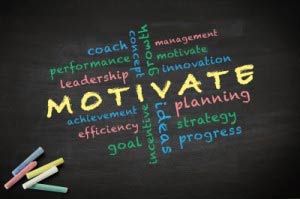 So, are you certain you really know what motivates your staff? Well, most managers today have heard that money isn't the key motivator for most people. And even if you think your people are different, consider this… After you get a raise, even if it is what you really want (like a new car), pretty soon that new salary (or car) is no longer a motivator – it is the new 'normal', the way things are 'now'.
In order to seriously get people motivated, you need to tap into the 'intrinsic' values that everyone holds dear. Here are some ideas on what are 'true' motivators today:
* A real purpose
How does what your people do really matter? Many people we talk to in businesses do not know the vision or mission of their company. When we ask why the company exists, the biggest answer we get is 'to make a profit'. No wonder they don't have a clear picture of what they should be doing and, more importantly, why they are doing it.
* Expectations they can stretch to
It's OK knowing what to do, but that rarely motivates. Set expectations that they can grow into. Stretch their expectations as to what they can achieve, and see them grow. With growth comes confidence, and with that confidence comes motivation.
* Relationships with others.
Abraham Maslow's Hierarchy of Needs states that 'belonging' is a key factor in getting people to be motivated. He referred to how people work together and how the social aspects of work are so important. If you don't believe that, think of how people feel when they are bullied or ignored at work. Build the environment for great relationships to be built within the team, and you will see how motivation grows.
* Stretching Objectives and Goals
Get people to work toward something that stretches them. If goals and targets are too easy, they will get lethargic and won't be inspired. Make the stretch target achievable if they really work for it. And make the reward one that is worth the effort.
* Autonomy
Within reason, people should be allowed to bring their own ideas to their jobs, so they feel they have some king of input into how and where things are done. Concentrating on results rather than methods means they can bring some kind of creativity to bear in their area of responsibility.
* Something to look forward to
If people have a future they can look forward to, and have the resources to achieve the results that the future holds, then they will always be looking forward to what is to come. Remember, motivation is the drive to action. If people don't see a future that inspires them, there is no reason for them to be driven towards the future and the results that they can influence.
Think of these ideas when you next contemplate how to really motivate your team. If you can identify the main contributors to real motivation, you can be assured of keen contributions and great results from a well-balanced and motivated team.
Many thanks
Mark Williams
Head of Training
MTD Training   | Image courtesy by FreeDigitalPhotos.Net