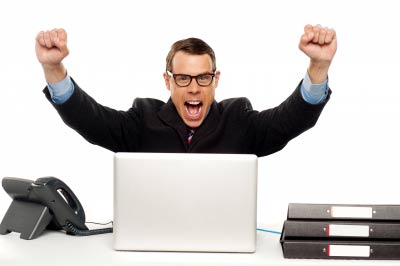 The modern paradigm of work is beginning to shift away from the 40-hour work week spent in a cubicle. With a new focus placed on the work produced instead of the work process, workers are beginning to demonstrate that offering flexible work arrangements can greatly benefit both the employee and the organisation as a whole.
In this digital age, many employees are engaged in producing intellectual content, and both graphical designs and written word lend themselves nicely to electronic production. With high speed internet access allowing near-instant communication and file transfers, collaborating with colleagues from around the world has never been easier.
The most commonly reported concerns for implementing telework center around management's ability to measure performance. Traditionally, managers have focused on witnessing employees sitting at their desks as a means of measuring productivity. Successful teleworking programs have implemented manager training designed to monitor productivity based on the amount of work produced. By remaining focused on the work product as opposed to the work process, teleworking teams are able to demonstrate significant increases in productivity and employee engagement.
A prime example of this increase in productivity can be seen in the telework program at American Express, a leading international financial institution that is actively working toward shifting call-center style positions into full-time teleworking. Currently, the company reports that teleworking employees produce 43% more work during the same number of hours when compared to those completing the same job from the office (Stewart 2013).
Encouraging employees to telecommute provides an added bonus of eliminating office distractions and time wasted traveling to and from the office.  A British Telecom Study (Hill, 2002) reported by the Gartner Group stated that the average telecommuter actually works 11% more hours than their in-office counterparts, indicating that the hours typically lost to commuting are often given back to the employer in productive time.
Organisations implementing teleworking even a few days per pay period are able to demonstrate significant cost savings. IBM, a leading multinational technology and consulting company, has been utilizing teleworking incentives since the early 1990's. Currently, IBM allows 40% of their workforce to telecommute full-time. Even after providing each teleworking employee with a complete home office setup, including furniture and an IBM computer and printer, the organisation was able to save $3.2 million in the first year of the program alone (Caldow, 2009). A study conducted by the Grantham Institute for study of Distributed Work states that employers can expect to receive $2 in improved productivity for every $1 spent on equipment, indicating that the costs of setting up teleworking stations for employees can be easily recouped (England, 2012).
Employees who telework report being significantly more satisfied with their job, reducing the likelihood of the employee quitting. Since training new employees can cost a pretty penny, introducing telework appears to be an obvious solution to increasing productivity and reducing turnover. In addition, offering telework programs allows organisations to recruit talent outside of the typical commute range of the organisation, or with physical limitations that may be difficult to accommodate in a traditional office.
As telework programs continue to expand, corporate culture is sure to embrace the product-driven model of performance management. With industry leaders working toward a shift to 100% telework for eligible positions, the benefits of these programs are sure to continue to grow.
Many thanks
Mark Williams
Head of Training and Development
MTD Training   | Image courtesy by stockimages of FreeDigitalPhotos.Net
References
Caldow, J. (2009, Januray 21). Working Outside the Box. Retrieved June 29, 2014, from IBM: http://www.01.ibm.com/industries/government/ieg/pdf/working_outside_the_box.pdf
England, B. (2012), Telework New Zealand. Retrieved July 1, 2014, from http://www.telework.co.nz/Benefits.htm
Hills, S. (2002). Sustel. Retrieved June 28, 2014, from profacility: http://www.profacility.be/piclib/biblio/pdf_00000341UK.pdf
Stewart, F. (2013). American Express – Work at Home Jobs. Retrieved June 29,2014, from https://www.thebalancecareers.com/american-express-company-profile-3542222