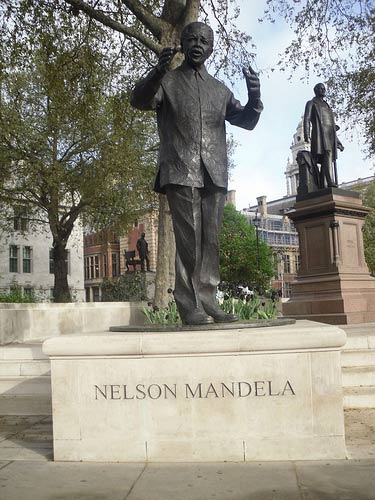 Nelson Mandela, the freedom fighter prisoner-turned-president who reconciled South Africa after the end of apartheid, died on Thursday, December 5, Mandela was 95.

Nelson Mandela emerged from prison after 27 years to lead his country out of decades of apartheid. His was a message of reconciliation, not vengeance and he inspired the world after negotiating a peaceful end to segregation. He also urged forgiveness for the white government that had imprisoned him.
"As I walked out the door toward the gate that would lead to my freedom, I knew if I didn't leave my bitterness and hatred behind, I'd still be in prison," Mandela, on his release in 1990.
Barack Obama, said "We've lost one of the most influential, courageous and profoundly good human beings that any of us will share time with on this Earth," Obama continued. "He no longer belongs to us – he belongs to the ages."
Nelson Mandela was respected by all who met him and the messages of condolence and praise came from across the world and from all religions and political extremes.
There was much political violence before the vote that put him in office in 1994 but South Africa avoided a full-fledged civil war in its transition from apartheid to democracy. His leadership and vision was paramount in preventing South Africa plunging into 'civil war' and along with F.W. de Klerk he was awarded the Nobel Peace Prize in 1993.
During the 2004 celebration to mark a decade of democracy in South Africa Mandela said "We were expected by the world to self-destruct in the bloodiest civil war along racial grounds. Not only did we avert such racial conflagration, we created amongst ourselves one of the most exemplary and progressive non-racial and non-sexist democratic orders in the contemporary world."
While he was in prison, Mandela would read William Ernest Henley's "Invictus" to fellow prisoners. The poem which talks about never giving up resonated with Mandela for its lines "I am the master of my fate. I am the captain of my soul."
It is somewhat surprising then that he only served one term as South African president. By serving just one term Mandela represented a new breed of African liberation leaders. In contrast to neighbouring Zimbabwe where Robert Mugabe has been president since 1987. I like to think that he did this as he wanted to show his utter commitment to democracy. Just look at the political and humanitarian situation in South Africa now and contrast it with Zimbabwe, I feel that that is down to Mandela.
I think the story of Nelson Mandela teaches us that no matter what we have done in the past, we can change. The key is to recognise what we do/did is wrong and be prepared to admit it to ourselves first and then to other people. As management and leadership educators we see people as they embark on this journey of discovery and it is our job to help them along the route.
Nelson Mandela – Your spirit is now truly free. Rest in peace.
Mark Williams
Head of Training
MTD Training   | Image courtesy by David Castillo Dominici of FreeDigitalPhotos.Net