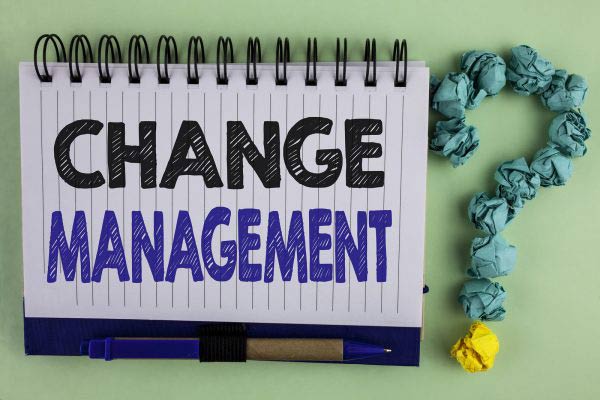 Not preparing for change at the workplace is similar to going out in the rain without an umbrella.
You know you will be wet and uncomfortable, and not prepping for the upcoming changes in weather is not smart.
Change will constantly come up in the workplace—from new software systems, updated trainings, new strategies and so on.
Although some employees may be resistant to change, implementing Kotter's 8-step process to help facilitate change management can help your company thrive amidst unknowns.
John P. Kotter, a Harvard Business School professor published the 2012 book, Leading Change.
In the book, he explained that change is ever present in the business world, and instead of avoiding it, managers need to foresee it and plan for it.
The challenging part of being a leader is not only having the skills to deal with change thyself, but also managing others' behaviours and fears to help them navigate changing waters.
Kotter's work is very popular and is usually covered within change management training.
To help managers and leaders worldwide, Kotter created an 8-step plan with examples on how a leader needs to handle change in the office.
Kotter's 8 Step Change Model
1) Explain the Reason for Urgency
In his book, Kotter stressed that this first step was the most vital one of the entire process.
This was required to help staff members understand why the changes are happening, and why they need to happen NOW.
Being transparent and opening up about possible problems or areas of improvement can help employees embrace versus resist changes.
2) Focus on Teamwork
Leaders need to understand that they cannot implement changes alone.
Employees feel more comfortable and confident when their colleagues are feeling positive about upcoming changes.
As such, the manager should designate a team whose responsibility it will be to carry out the changes.
They can work with the employees to listen to their fears and work with you in order to resolve them.
3) Focus on a Vision
Change can be a confusing time and one that makes employees fearful of what is to come.
Having a plan in place that clearly outlines certain objectives and the timeframes in which they will be executed in can help employees see the entire picture.
By having a better sense of how, if at all, their roles will change and what is expected of them, staffers will be more prone to accepting what's ahead.
4) Communicate the Vision
You may have held a meeting to announce what's coming up, but that is not enough.
You need to embed the changes into the daily tasks of your employees.
This requires the manager to discuss the changes frequently and give the employees a chance to voice their concerns or provide ideas.
By adopting what's ahead throughout the company, you can create acceptance amongst your team.
5) Get Rid of Obstacles
There tend to be a few people that can resist change and make it difficult for everyone else.
Focus on these individuals ahead of time, the more accepting they are, the more success the change will have amongst the team.
6) Create Short-Term Wins
It can be unnerving to work on something that is months or years away.
To keep your employees motivated, create objectives with short timeframes.
Break up projects into smaller, measurable tasks so that your employees can feel confident when they are accomplished and feel like management appreciates their efforts.
7) Don't Call Victory Too Early
The author cautions against failure to focus on the change once it is believed to have passed.
As change is continuous, surprises can always be ahead.
Keep building on the change to focus on improving the status quo.
8) Incorporate Change into your Corporate Culture
A company that makes change a priority is one that incorporates it into the corporate culture.
Be fluid with your hierarchy and structure to support innovation.
Let your staff members know that you value their opinions and encourage them to think outside the box.
Thanks again
Mark Williams
Senior Management Trainer and Consultant