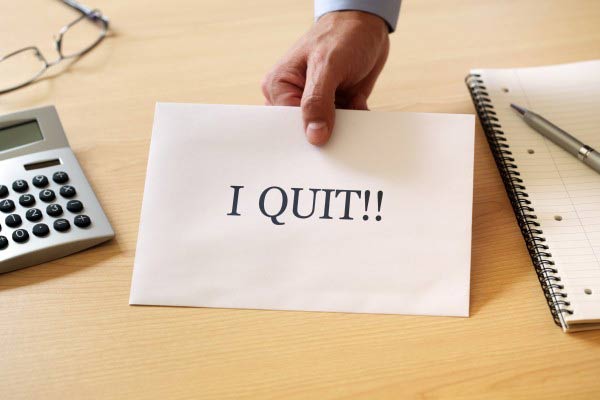 If you are ready to move on from your company, whether to a new job or simply to retire, you need to write a professional resignation letter. The purpose of this document is to alert your boss of bosses of your impending departure. Although you first need tell your immediate boss about your decision verbally, you should follow up with a written notice.
Whether you are deeply sad to leave your current post, or hate it and can't wait to leave, make sure to write a nice and professional letter. Never be negative in the document, or write how happy you are to move on, as you will probably need a good a reference for your next job. Below is a five-step guide for what your letter must include.
Notice – The main point of the resignation letter is to notify your employer of you parting ways with the company. So simply and honestly write that you are resigning your post at the organisation.
Departure Date – It is important to state that you are leaving your post by a certain date. It is customary to give at least two weeks' notice so that your boss has enough time to plan for your departure. He or she will need to put out a job advert and interview new candidates to replace you. If you are able to give more of a notice, you may do so; however, find out your company's policy beforehand. Some organisations escort employees out as soon as they give notice, so if you are not planning to leave for one month, think carefully when you want to give notice.
Gratitude – No matter how you feel about your boss, make sure to express your gratitude in the resignation letter. Thank him or her for hiring you, and allowing you to practice your management skills in the position. 
Reason – You may choose to include a reason for leaving, but that is not necessary. If you are moving to another city or state, or are going back to school, you may list those reasons. However, that is never a must in resignation letters.
Aid In The Process – If you so choose, you may offer to aid in the transition process of your departure. You can offer to help your employer interview new people and even train existing members of your team in what it takes to get your job done.
When writing a resignation letter, remember that it will go into your working file, and, therefore, is a document that deserves to be written with care.
No matter how you feel about your job or your boss, make sure to write a professional letter that will not leave your employer with a negative impression of you.
Many thanks
Mark Williams
Head of Training