Results
Leadership Around The World
Which country has the best overall leadership skills?
Belgium tops the list from 75 countries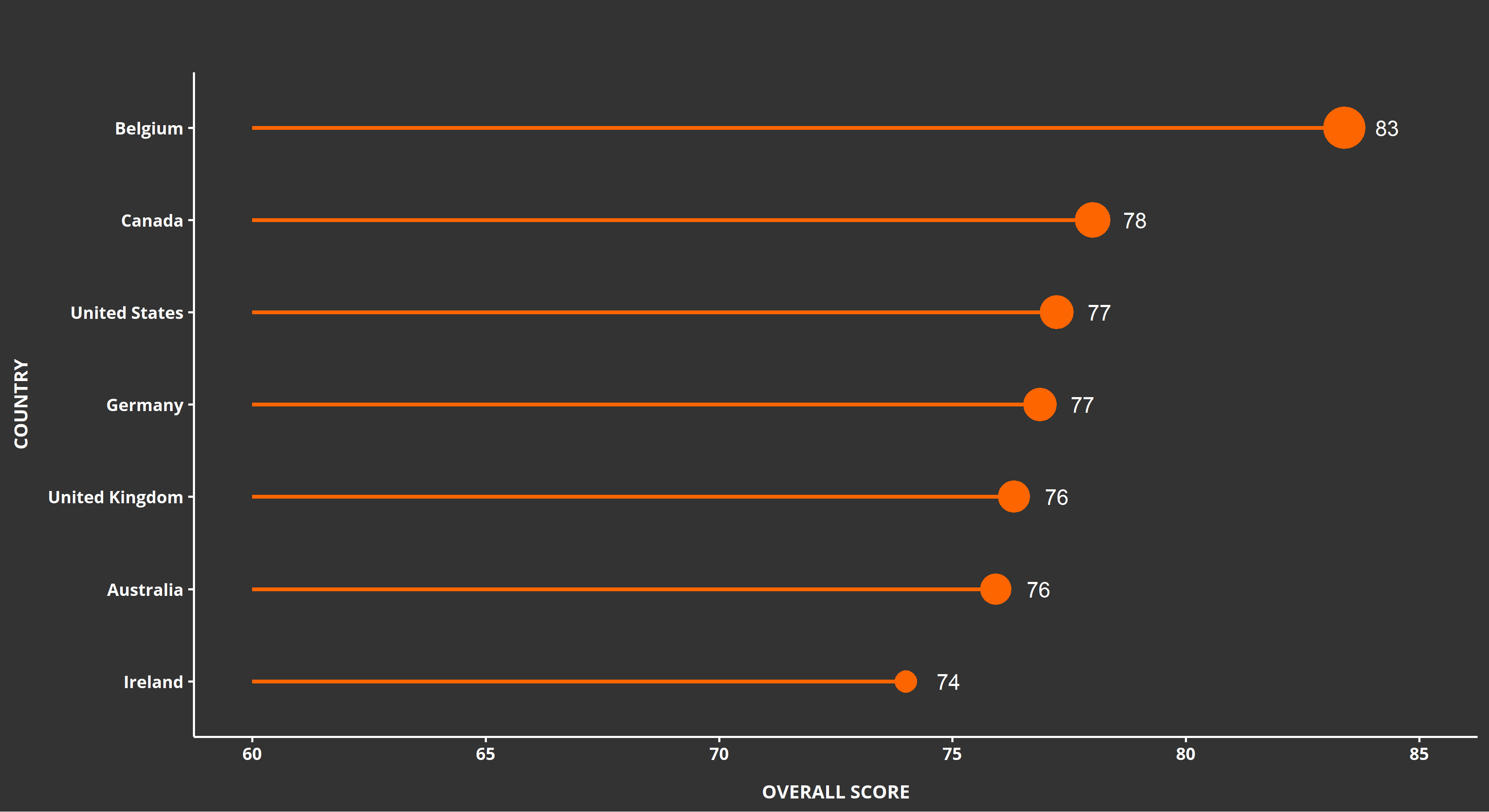 Overall, our Leadership DNA survey captured data from more than 2,000 managers across 75 countries to find out how strong their leadership skills were.
Here, you'll find how the top 7 countries ranked across a variety of leadership skills.
Business leaders from Belgium marked themselves highly, far ahead of their counterparts from Canada, the United States, Germany and the UK.
When given a weighted average, our study found that the combined EU countries received a score of 78, which puts them in joint second place with Canada and interestingly ahead of the UK in these Brexit times.
---
Leadership skill rankings for each country
UK's strongest skills are managing resources and making decisions!


For this we took each leadership skill in turn and then ranked the countries in order from 1 to 7 (1 being top)
This shows us how each country faired for each skill.
Our survey found that managers in Belgium achieved high marks across the board, but they did recognise that there was room for improvement with building relationships where Australia came out on top.
Our survey found that UK managers' best qualities were managing resources and decision making. The UK's worst two performing leadership skills were being customer focused and leading change.
If we look across the Atlantic, the US scored highly on general leadership and developing people. Canada had very strong results being ranked #2 for managing resources, leading change, decision making, customer focus and continuous improvement.
When it comes to reliability and efficiency, Germany is always thought of. So it came as no surprise that they were ranked #2 for managing performance, communication skills and managing meetings.
Talking of meetings, the bottom three performing countries in terms of managing their meetings included the US at the bottom, then Australia and the UK.
---
The UK
vs
US & EU
How do UK & US leadership skills compare?
US "Trumps" UK in 8 out of 11 leadership areas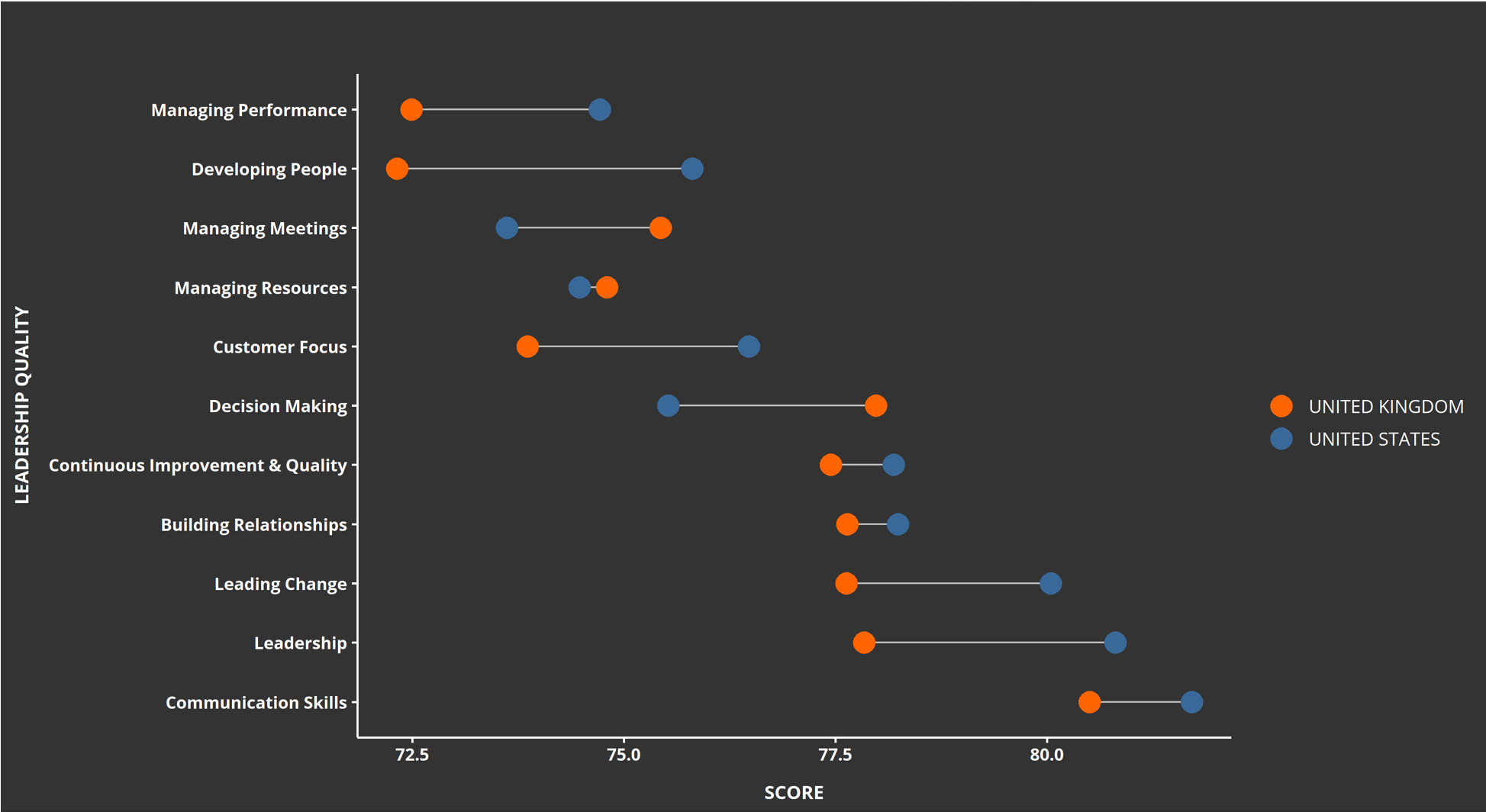 In the barbell plot chart above, we see a visualisation of the scores in leadership skills between the UK and the US.
It clearly identifies the gaps between the two.
UK managers scores only outstripped the US in 3 from 11 leadership areas. Those were managing meetings, managing resources and decision making.
While the US is ahead of the UK at every other point, the gap was largest in people development, general leadership, leading change and customer focus.
---
How do UK & EU leadership skills compare?
It's not just Brexit that has large gaps to fix!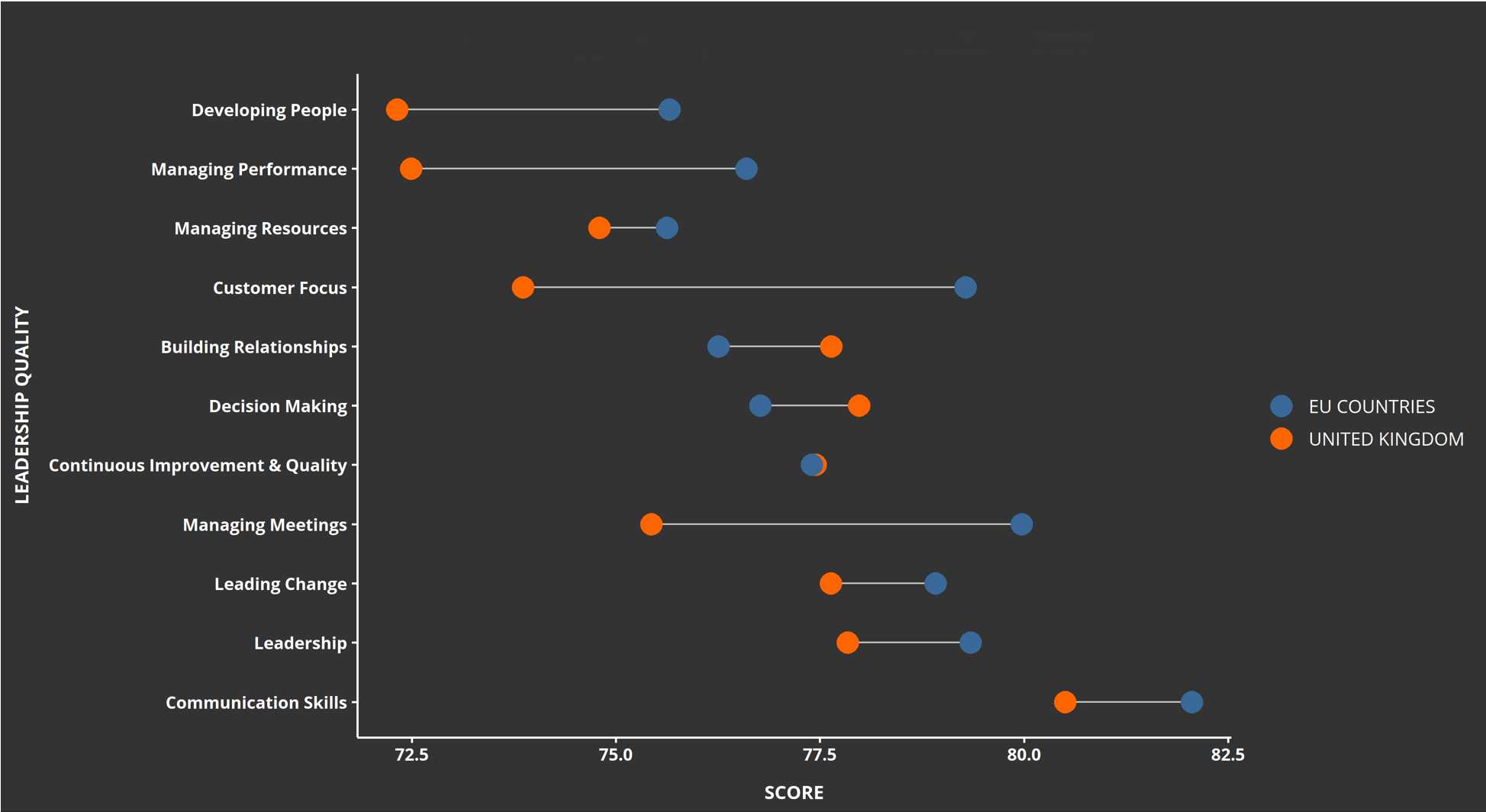 There are significant gaps in 4 specific leadership skills of the managers of the UK and their EU counterparts, those areas being customer focus, manging meetings, developing people and managing performance.
The UK were ahead in building relationships, decision making and had a slight advantage in continuous improvement and quality.
---
What Industries Lead In The UK?
Which industry in the UK has the best overall leadership skills?
Utilities Top. Manufacturing & Retail struggling.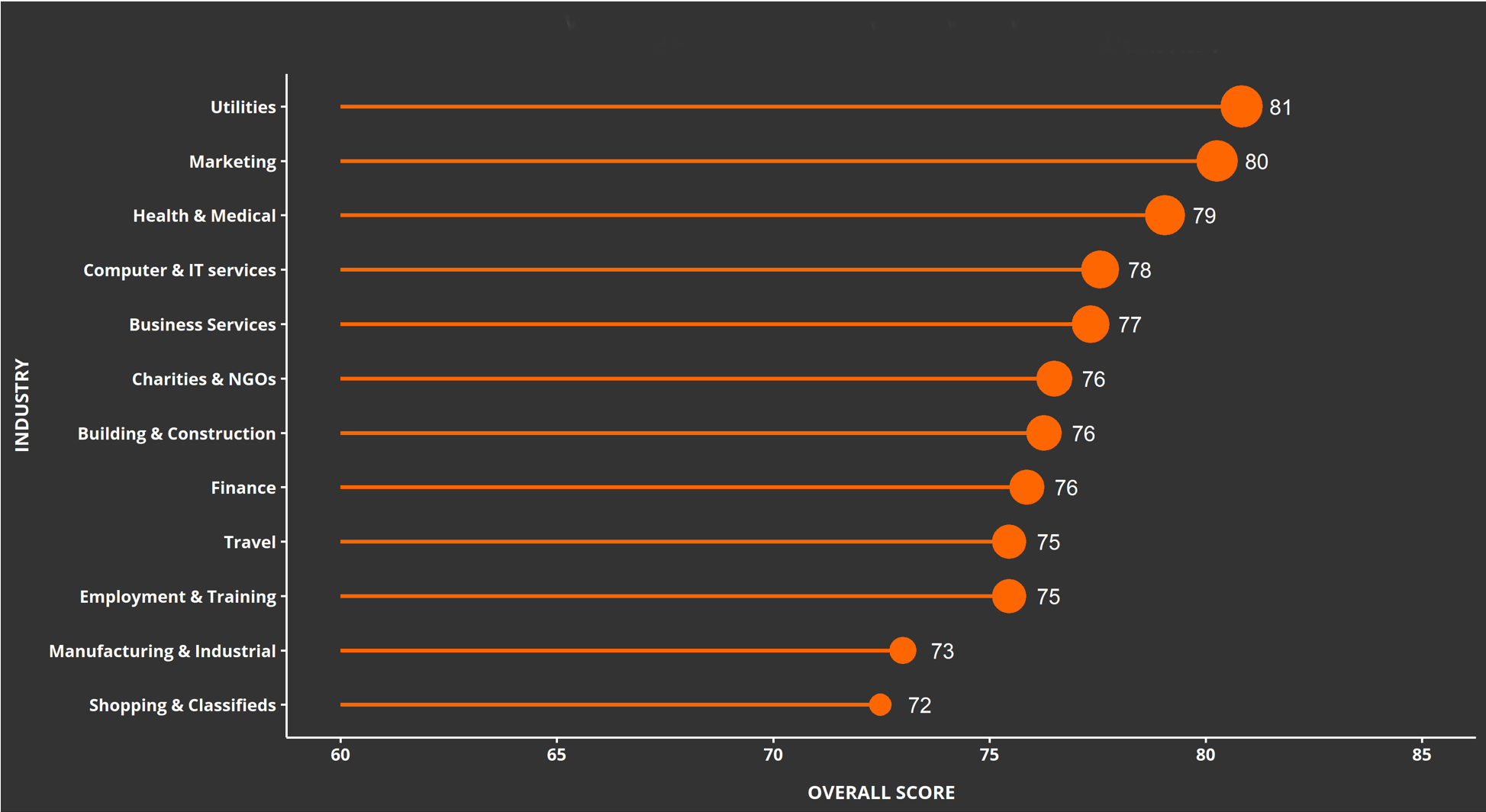 If we break the UK down by industry, we see how the different industries rate themselves in leadership.
These were the top 12 scoring industries.
Utilities, Marketing and Health & Medical, rate themselves as having the best overall leadership skills.
Retail and Manufacturing/Industrial industries gave themselves the lowest scores.
---
How do different industries compare per leadership skill?
Marketing in top 3 across the board.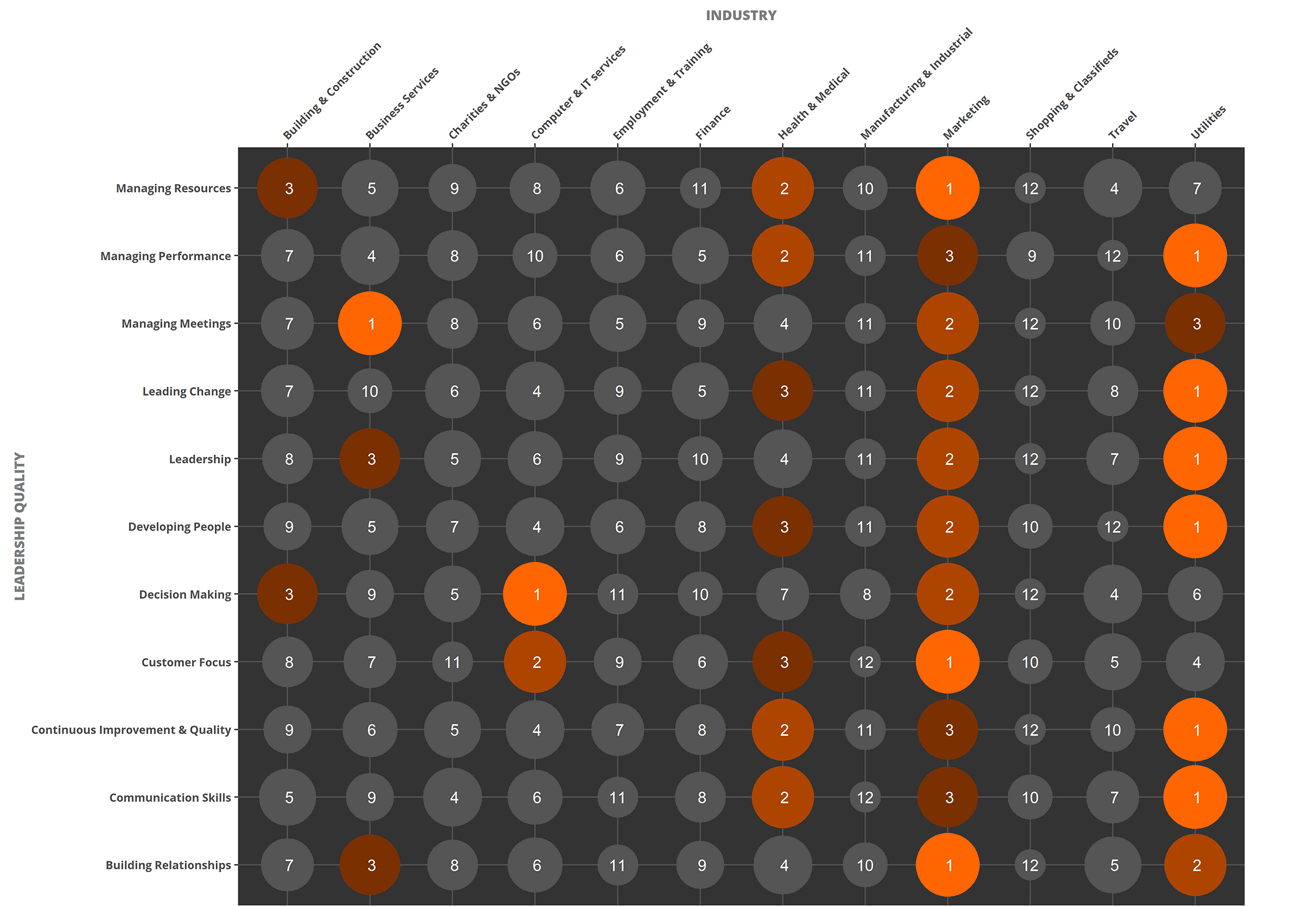 The marketing sector faired very well across all 11 leadership skills areas being ranked in the top 3 for each of them.
Some notable strike out statistics include:
Business services ranking #1 for managing meetings
Computer & IT Services ranking #1 for decision making
Retail finished last in 7 of the 11 leadership skills
Utilities ranked #1 in 6 of the 11 leadership skills
Health & medical had strong results across the board
It was interesting to note that whilst Utilities was top in 6 areas their worst scoring areas were in managing resources (7th out of 12 industries) and decision making (6th out of 12 industries)
---
Want to take the LeaderDNA diagnostic yourself?