Present With Confidence & Without The Stress
Overview
Delivering effective presentations is a common activity that nearly everyone at work has to do in today's business environment.
There's something about speaking in front of others that terrifies some people and excites others.
No matter what camp you fall into, this course will help you to develop your confidence to plan and deliver effective and memorable presentations.
This 1 or 2-day in-house course is designed to provide you with the skills, knowledge, techniques and strategies to deliver winning presentations so that you can get your point across in a confident manner and get rid of those nerves and fluffed lines!
Who Will Benefit From The Course?
Managers who are responsible for delivering a lot of presentations
First time managers/supervisors who will be exposed more and more to giving presentations
Senior Managers who want to sharpen their skills and deliver
Anyone who finds giving presentations a difficult task!

What Will You Gain From the Course?
Develop key presentation skills

How to use effective body language and how to manage your space

Learn how to build rapport with the audience and how get them on your side

How to prepare for any presentation

Learn advanced communication techniques to adopt to different listening and learning styles

Learn how to overcome your nerves
Learn how to answer questions from the floor in an effective manner
Learn how to project your voice, tonality and inflection
Learn how to make a memorable first impression and keep the presentation interesting
Learn how to cut out the waffle!
Course Agenda
Delegates are required to prepare a short presentation prior to attending the course and an outline of another, these were delivered on several occasions resulting in the "finished article" on day 2!
Delegates can be videoed if they want. They get to keep their tapes of the "before" and "after" presentations!
DAY 1
Introduction
Meets and greets!
Course Objectives
Warm Up Exercise
The Presentations!
Introduction
Delegates deliver their prepared presentation number 1
Evaluate strengths and weaknesses
The Art of Presenting
It's a difficult job "but someone's gotta do it!"
Presentation basics
Presentation Content and Presenter Behaviour
Structuring And Planning Your Presentation
Define your presentation objectives
Preparation
Generate ideas for creative delivery
Creating a powerful start and finish
Introduction
Visual Aids
Body of the talk
The Presentation
The Power of Body Language and Voice
Importance of body language and your voice projections
Body language exercise
The 4 P's of the Voice
Review of Day 1 and preparation for Day 2
Close
DAY 2
Review
Review of Day 1
Key learning points
The 2nd Presentations!
Delivery of 2nd presentation
Evaluate strengths and weaknesses using appraisal sheet
Key learning points
Using effective questioning and answer techniques
Responding to questions
Dealing with resistant views
Using influencing language
Effective Communications
What makes up an effective communication?
The golden rules for effective communication
Internal Representational Systems
What is a representational system?
How people represent what you say into their own language
Techniques and strategies to communicate effectively with people with different systems
Close And Action Planning
We Have Recently Run This Course For:

When Waitrose wanted their staff and suppliers to deliver winning presentations they called us.
There was a requirement for all levels of management to present in a professional manner both to internal groups as well as to external suppliers.
The Solution
A 2 day presentations course was designed and delivered that focused on how to structure presentations and how to deliver them in a confident and convincing way. Advanced communication skills were also covered as were several techniques and strategies for overcoming nerves and answering difficult questions.
Over 120 managers went through the programme in total.
Now their managers can control their nerves and deliver confident and powerful presentations that are crisp, clear and without the waffle!
Feedback
"The course was exceptional. What I liked about it was that it was very good information, funny, affirming (as individuals and as a group), practical and has benefits far beyond the content. The facilitation was excellent.Thanks for all this. You are an exceptional person Sean and it was great being on the course"
Susan Grant – Manager
"A really BIG THANK YOU Sean. The course was BRILLIANT. I really did appreciate all your help and training getting me over the final hurdle – I couldn't have done it without your encouragement and input, it was as you say AWESOME"
Ian Daniels – Manager
"After the training had finished my manager could not believe what impact Sean had on me. He thought he had employed another person!"
Phil Hayman – Manager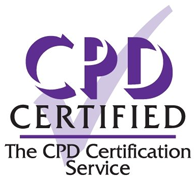 All of our in-house, bespoke courses and programmes are
CPD Certified.
After we have developed the material for your programme it will go through the CPD Certification process.
What this means is that your managers will receive a CPD Certificate for your specific course/programme.
All of this is completed with no additional cost.
Get In Touch!
If you have got some training requirements in mind please call us on 0333 320 2883 or complete the online form below and tell us about what they are and we'll get back to you with some options and costs.