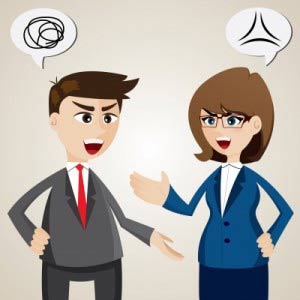 With the Bank Holiday weekend just gone it gives the majority of the country a three day weekend and a bit of time to unwind.
Whilst browsing through the humdrum of bank holiday television, I came across the guilty please that is The Jeremy Kyle Show.

As you are probably aware the first person comes on to the stage, tells their story,  followed by the next person – who will inevitably kick off, pull their chair away and use colourful four letter words whilst stating their case.
The standard line Kyle uses between people coming on stage is 'Well, there are two sides to every story…'
And this got me thinking about workplace conflicts and how you should deal with them.
One of my favourite quotes that I have seen on Twitter retweeted from a friend was 'There are three sides to every story; yours, theirs and the truth.'
It is absolutely crucial to think of this quote when dealing with conflict in the workplace. Conflict happens in most workplaces at some stage – there will be clashes in the heat of the moment. It is important to take both people aside and gather each side of the story.
You can then (nine times out of ten) deduce what has happened by putting aside any sensationalised accusations or exaggerations made by either party.
The next stage is to go and 'see Graham backstage'. In terms of the workplace conflict, this would involve sitting the pair in the same room and discussing the conflict. Look for the root cause; look for a solution so this root grows no further.
I cannot stress how important it is to deal with conflict in the workplace immediately – an employee with low morale will be nowhere near as productive. Remember – we spend most of our week with the people we work with – it would be demoralising for everybody involved if the environment where they work is unhappy and, at times, hostile.
One thing we can learn from the Jeremy Kyle show is that conflict should not be dealt with in front of an audience. Never air your dirty laundry – when dealing with office conflict privacy is essential. Some managers take the employees in question out for a walk or out in their cars, just to take them out of the environment where the conflict took place and to remind them that there is more to life than what goes on in the office.
Obviously all people are different and have different characteristics – so do take this into account when dealing with conflict. Not all people will respond well to the same methods – so do bear that in mind.
There is some advice on dealing with workplace conflict – remember- three sides to every story.
However, if it's a DNA test you're after – I think Jeremy is your man.
Thanks again
Mark Williams
Head of Training and Development
MTD Training | Management Blog | Image courtesy by iosphere of FreeDigitalPhotos.Net