"Learn how to delight, retain and attract your
customers by

being

committed to delivering
customer service excellence"
Overview
The way that your staff work with and interact with your customers has a direct impact on your bottom line!
Make sure that they have the best skills, strategies and techniques to ensure that every customer experience is a memorable one with this "Customer Care Service Excellence Course" This is a 1 or 2-day in-house course aimed at those people with direct contact with your customers whether it be face to face, on the telephone or via the internet.
Who Will Benefit From The Course?
Staff who deal with customers on a daily basis face to face
Telephone sales and service advisers
Helpdesk operators
Staff who are responsible for responding to emails and correspondence
What Will You Gain From the Course?
You Will Know How To Understand Your Customers' Points Of View
Learn How To Build Effortless Rapport With Your Customers
Discover The Most Effective Questioning And Listening Techniques
Learn The Importance Of And Practice Your Non-verbal Communication Skills
Customer Care On The Telephone – The Importance Of Tonality & Inflection
Setting Customer Service Standards
Understand The Importance Of The Lifetime Value Of A Customer
Learn How To Write To Your Customers Effectively And Efficiently
Learn Techniques And Strategies To Handle Customer Complaints
Learn How To Be Assert Without Being Aggressive To Your Customers
The course content will vary depending on the channel used.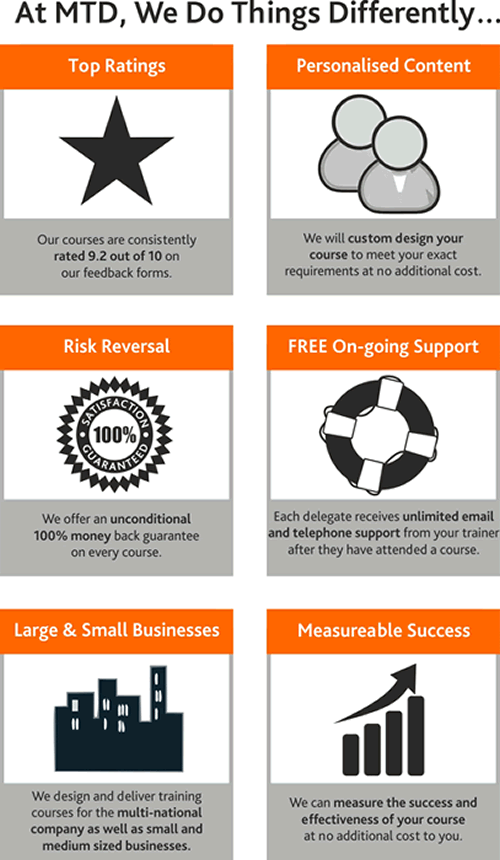 Get In Touch!
If you have got some training requirements in mind please call us on 0333 320 2883 or complete the online form below and tell us about what they are and we'll get back to you with some options and costs.