Overview
As the lockdown continues and uncertainty is the only thing, we are certain of, it can be hard to stay positive and motivated.
Self-doubt can overcome anyone of us, and the longer this goes on the more of us will be affected.
Looking after your wellbeing and developing mechanisms is an important skill, we all need.
Many people cope by having things to look forward to holidays, family gatherings, days out, going for a meal. Things that we take for granted are milestones we set to get us through to next week, month, year.
When these are taken away, work is not what is was, some of your colleagues may be furloughed, family members may be ill or dependant you, we need to dig deep and find our inner strength.
Building our resilience is key to not just getting though this pandemic but coming out healthy both physically and mentally.
This webinar is will help you build that resilience, reset your priorities and redefine how you survive uncertainty and ambiguity of the coming months.
Objectives
By the end of this workshop, you will be able to:
Understand what is meant by resilience
Recognise the warning signs
Effectively take control back
Understand what motivates you and drives you to keep going
Recognise where your strengths lie and use these to your advantage
Build self-esteem and resilience by reframing and refocusing
Workshop Outline
Duration: 45 minutes through to 2 hour versions available
Materials: Virtual handouts provided to work through
Indicative content
Understanding resilience:

What helps to build resilience?
What can be detrimental to your own resilience?

Recognising and managing your feelings:

Understanding the role uncertainty and ambiguity plays in creating stress and pressure
Learning to control the "controllables"
Taking a step back and resetting personal and professional boundaries with regards to your feelings and emotions

Recognising your strengths and weaknesses
Building resilience through self-belief, self-esteem and optimism
Overcoming negative thinking and finding a way forward
Understanding the different "drivers" which motivate people
Understanding what motivates you
Understanding the importance of self-motivation – particularly in times of high-pressure, stress and change
Action planning and making it happen
---
CPD Certificate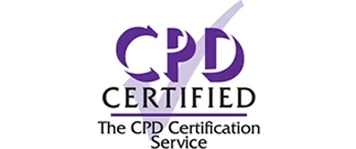 CPD Accredited
This webinar is CPD Certified (Continued Professional Development.) This gives you the assurance that it is of the very highest standard.
Upon completing the webinar all attendees will receive a formal CPD certificate for their records.
---
This Session Includes
Pre-Session Activity
Polls & Questions
Hand Up Q&A
Interactive Exercises
Case Studies & Examples
Recorded For Future Playback
---

Customise Your Webinar
We can add, take out or amend any content that you like to make sure that we design and deliver your webinar EXACTLY as you want it.
Please contact us on 0333 320 2883 or email info@mtdtraining.com to discuss your requirements