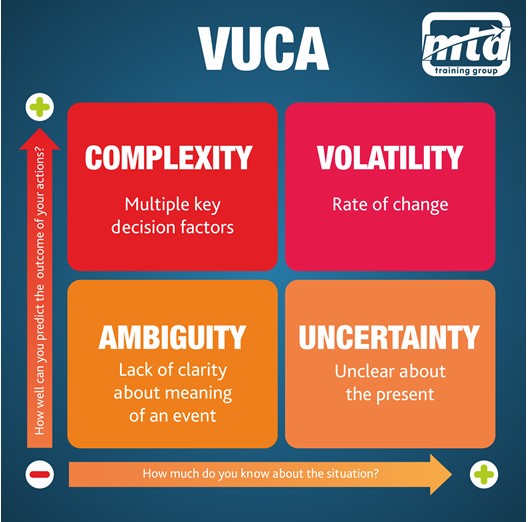 VUCA is an acronym that stands for volatility, uncertainty, complexity and ambiguity, which characterise the nature of some difficult conditions and situations.
Born in the 1990's in the military world of the American military, it originally described the conditions the world faced after the cold war.
The four concepts can also be applied in today's business world, especially in the pre- and post-Brexit world.
Volatility is the quality of being subject to frequent, rapid and significant change.
In a volatile market, for example, the economy can rise or fall considerably in a short period of time, and the direction of a trend may reverse suddenly.
So what can managers do to relieve the tension in a volatile market?
Become adaptive in decision-making
Have clarity of vision, short and medium-term
Communicate clearly to reduce confusion
Determine your intent and resolve
Uncertainty is a component of that situation, in which events and outcomes are unpredictable.
Businesses hate uncertainty, and when it's the driving force behind the decisions you have to make, you need to find other ways to create certainty for your business.
What can managers do in an uncertain market?
Flexibility to cope with doubt
Build commitment and consensus of approach
Develop new perspectives
Create risk-management ideologies
Complexity involves a multiplicity of issues and factors, some of which may be intricately interconnected.
Anything that increases complexity in an already-complex situation can cause confusion and fear among team members in your business.
The problems escalate when there is a complex environment business is working in.
What can managers do when complexity is the pattern that businesses face?
Understand the links between cause and effect
Simplify processes and procedures
Recognise nothing is permanent
Encourage development and generation of ideas
Ambiguity is manifested in a lack of clarity and the difficulty of understanding exactly what the situation is.
When there's more than one possible answer to a business problem, it needs quality leadership to drive the company forward, through conscious decision-making and objective setting.
What is expected of a manager during an ambiguous time?
Communicate directly and with clarity
Seek out and uncover alternative viewpoints
Listen to divergent ideas and concepts
Learn lessons that can apply in various circumstances
By working to overcome the inevitable consequences of a VUCA environment, we bring into our control that which may have appeared uncontrollable.
It may be difficult under the circumstances we face, but by approaching it with confidence and assurance, you prove to your team that you and your company can make a real difference.
Thanks again
Sean
Sean McPheat
Managing Director
MTD Training   | Image courtesy of Big Stock Photo