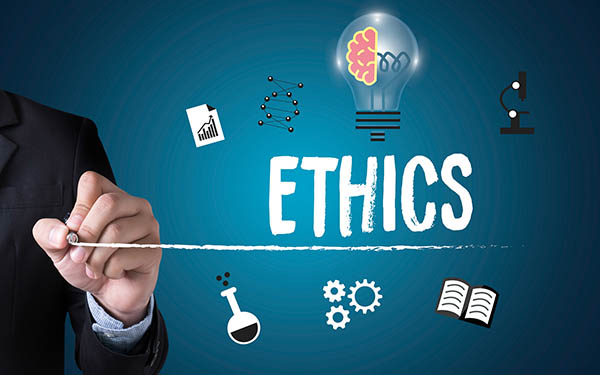 As a manager you're going to find yourself in a position where you are required to regularly make decisions.
While you may, at times, feel as though you are guided by your own morals and beliefs, it is very important for you to remember to put your personal beliefs aside so that you can look at each situation objectively and make the most ethical decisions possible.
Now, what are managerial ethics? How can we define ethics in management?
AZCentral describes managerial ethics as 'referring to the moral guidance a supervisor provides his employees. No one ethical approach is universally accepted, so each business owner must choose his own approach to ethical management. Many ethical approaches exist, each with a distinct twist on what it means to behave ethically'.
So, it can be seen from many different perspectives. Chron.com comments that 'Managerial ethics is a basic part of business ethics. It is the set of moral principles or beliefs that affect the behaviour of employees. While most people automatically assume that ethics directly correlates to laws, this isn't always the case. Doing the right thing for employees and customers and demonstrating the willingness to go the extra mile also falls under managerial ethics.'
The answer to the question 'what is managerial ethics?' differs according to the situation we are in.
There are many examples of ethical management out there. Ethical management is the practice of being honest and virtuous in a role as a manager. There are several responsibilities and obligations of an ethical manager, including setting a good example, holding everyone to the same standard, and making expectations clear.
In order to do this, there are four main principles of ethical management you need to keep in mind at all times. They are as follows:
Respect for each employee – While it's difficult at times, it is important to make sure you treat each of your employees or team members respectfully. Everyone you work with will have different religious and cultural beliefs and should be treated fairly.

Mutual respect – Your role as a manager involves making sure that your employees all treat each other respectfully as well. While they don't all have to agree with each other, they should show proper respect for each other's ideas and opinions. A team that doesn't get along on a personal level will not work will together and will be less productive.

Procedural fairness – You may not have control of the procedures your company expects you to follow but you do have control over the procedures you can implement within your team. It is important to make sure the procedures you implement are fair to all of your employees – neither favouring nor neglecting one employee or another.

Decision making transparency – It's incredibly important for you to make sure your employees understand why you make the decisions you do. If they realise you aren't making arbitrary choices based on personal beliefs, they'll be more likely to accept your decisions and work together as a team.
Are you acting as ethically as possible in the workplace? Are there things you could change so that you and your team get along on a better, professional level?
By thinking about decisions, you make at the ethical level, you determine the strategic direction of your team in, many times in a costless manner.
Thanks again,
Sean McPheat
Managing Director
MTD Training | Management Blog | Image courtesy of Big Stock Photo