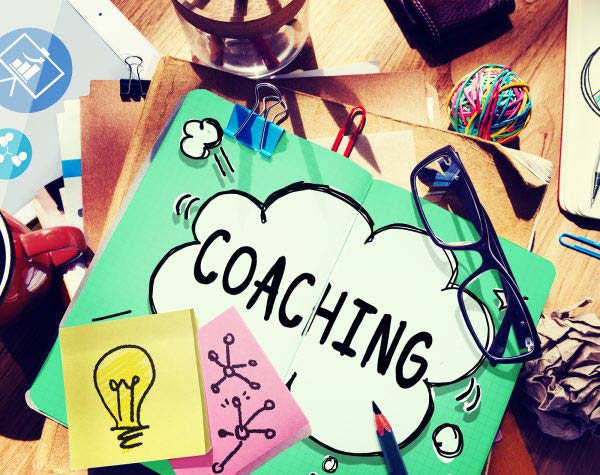 Managers are many things –  they are employees, employers, supervisors, teammates and coaches.
They answer to their superiors, partners and clients, but most of all, they are responsible for the productivity and loyalty of their team.
A true leader is a coach that is invested in their employees' growth and success.
Following the GROW coaching model can give leaders a blue print on the best coaching strategies for their team.
This model is a staple on most Coaching Skills Training Courses so let's a take a closer look at what it is.
What is the GROW Coaching Model?
Developed by business coaches Graham Alexander, Alan Fine, and Sir John Whitmore back in the 1980s; the acronym GROW stands for:
Goal
Reality
Options or Obstacles
Will or Way Forward
The GROW model is a type of blueprint akin to making plans for a trip.
The goal is the first step which allows you to plan; the second step, the reality, alerts you to your current situation; the third step, the options and obstacles, help you consider how to ultimately get where you are going promptly and easily; and the final step, the will, helps you prepare a course to stay on the journey no matter what comes your way.
G – Goal
As in, determining what your team members actual goals are going to be. They can be short term goals, long term goals, or a combination of the two. As with all goals, it needs to be realistic, specifically detailed, and something that can be measured for progress.
R – Current Reality
Where a person believes himself to be in the present will have a significant impact on his ability to grow in the future. If he already believes he is proficient at a task, he may not try to grow. Someone who isn't sure of his stance on a position now will have problems solving future dilemmas. Help your team members to understand what is currently happening in their lives so that they can form a baseboard from which they can grow.
O – Options
Once you've determined your goal (identifying the need to solve a problem) and examined the current reality, you should spend some time identifying the different methods, or options, for solving the problem at hand. Your team members need to have ideas of their own, so let them guide this conversation and offer your own suggestions only if you feel as though you aren't making progress.
W – Will Or Way Forward
Does your team member have the willpower, or the desire, to make a change and choose one of the options you've outlined? Spend some time outlining exactly what needs to be done, how it will be done, and when. What is the way forward? What next?
Managers can help their employees utilise this model effectively with the following steps:
Help the employee set a SMART Goal (Specific, Measurable, Attainable, Realistic, and Time-Bound). The problem with goal setting is that many people set unrealistic or unachievable goals and then simply give up on them. Goals need to be realistic and create tasks that can be measured within a certain time-frame to keep the person on track.
Discuss the current situation with your staff, such as how they got to their current position, what they think about their role and responsibilities. Many times, professionals are so set on moving up the corporate ladder that they forget to stop and truly evaluate if they want a higher title and more responsibility. It's important to focus on the here and now before thinking of the future.
Brainstorm together with your employee about the options available to them. Does this involve taking on more responsibilities, growing in the position, getting promoted, moving on, etc.? Consider the obstacles that can prevent the goal from becoming realised, such as finances, lack of free time, skills, etc.
Create a strategy for moving forward, which can involve mentorship, taking courses, self study or simple dedication to working harder and smarter.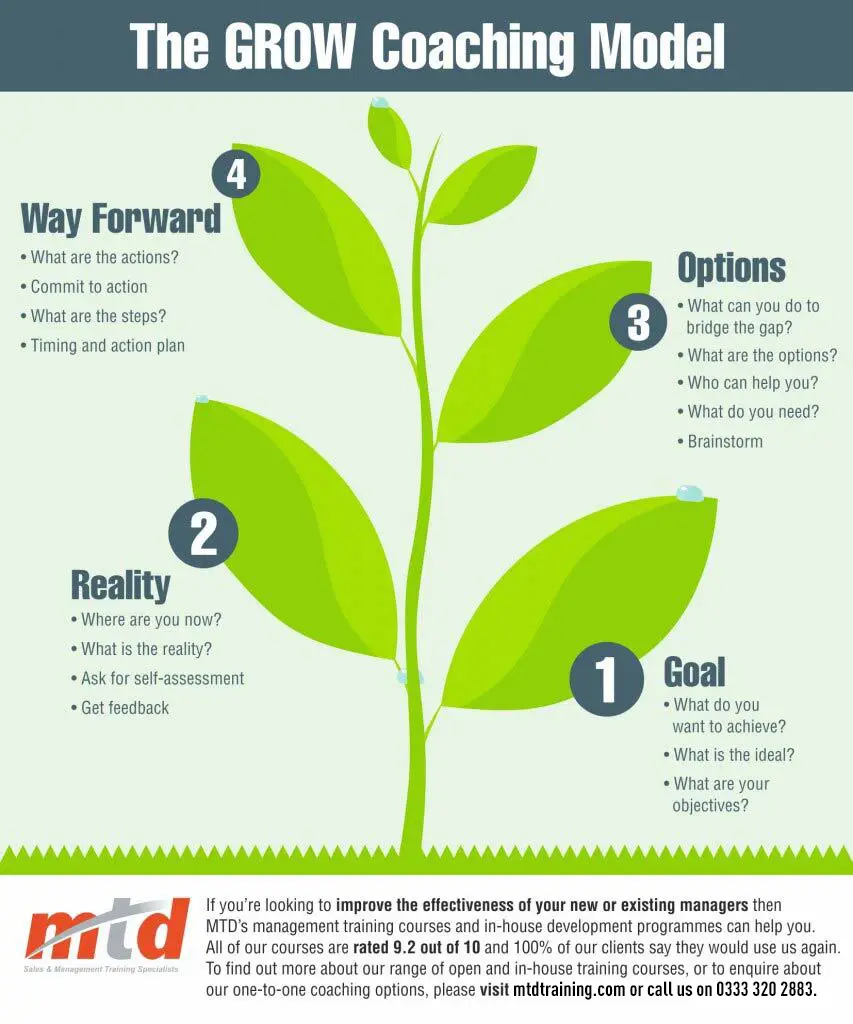 A good tip to remember when using the GROW Coaching Model is that the steps are there to help the employee realise their potential and future goals. We shouldn't be instructing our people and telling them what we think is best for them, but to listen, ask open-ended questions and provide unbiased advice to truly benefit the employee.
I've got 450 Coaching Questions that you can ask as you use the GROW model. Please feel free to download them and use them at will. Coaching plays a pivotal role in the Management Training solutions that we provide whether they be face to face, online or through blended learning options.
Thanks again
Sean 
Sean McPheat
Managing Director